Olympics: Puckett, Rahlves sail through ski cross qualifier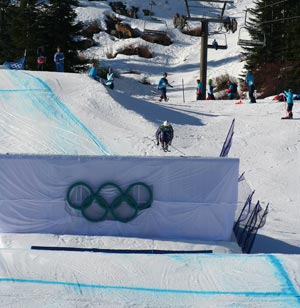 CYPRESS MOUNTAIN, BC (Feb. 21) – The sport of ski cross made its Olympic debut today at Cypress Mountain near Vancouver. This morning's qualifying round served almost entirely to position racers within their first heat of the finals as 32 of 33 racers made the cut. Racers will now face off in eight heats of four, fighting for one of the top two spots to move on to the next round.
On the same course that was used for snowboard cross events earlier this week, racers made their way through bank turns and table top jumps one at a time, racing against the clock for their pick of start gates for the first round of head-to-head competition this afternoon.
Swiss skier Michael Schmid led the qualifying round with a time of 1:12.53. Canadian Christopher Del Bosco had the second-fastest time, .36 seconds off the pace. The former alpine racer who grew up in Vail, Colo. is a heavy favorite coming into these games only three weeks after winning X Games gold. Frenchman Xavier was .02 seconds behind Del Bosco with the third-fastest time of the morning.
Americans Casey Puckett (1:14.35) and Daron Rahlves (1:14.91), both coming off injuries, made their way down the winding course without a problem, finishing 18th and 24th, respectively heading into the elimination rounds when the clock will be turned off.
Puckett, who was feet from winning his first career World Cup in early June when he fell and separated his shoulder, said his shoulder was feeling "Okay." "It's not a super shoulder by any means," he said.
"You're always trying to win the qualifying so you have gate selection and you want to prove to yourself that you are the fastest out there," said Puckett. "Daron and I are two plus seconds out so that's a little discouraging. Hopefully it will be a different story when the heats come around."
Rahlves will make a few adjustments before he hits the course with three other racers.
"I felt pretty good actually, I was just a little surprised I was that far off the pace there," said Rahlves. "I took the heat race line, going in there super direct in all the turns and that probably wasn't the way to keep the speed up coming out."
"I was just out there trying to feel it out, trying to get the timing down just right," said Rahlves, who three days ago told reporters the hip he dislocated three weeks ago was 88 percent healed. "Obviously I got a little work to do on a few of the jumps, trying to get back down to the ground a little quicker."
Trukee, Cali. native Errol Kerr, representing his Jamaican father's home country, had a solid ninth-place time after spending 1:13.71 on the course.
Racers were pleased with the course they have been training on for the last two days.
"It's holding up. I think they have done a great job with what they had to work with," said Puckett of the patchwork course. "There is a lot of sugar up there and it's kind of funky to ski on, but that is what it was like last year and we're ready for that."
The work that went into to preparing the complicated course is apparent as all the slopes surrounding the track are bare of snow. Course workers have been working for weeks to haul in enough snow from higher elevations to build the course. Loads of snow were brought in by truck and helicopter and larger features were constructed out of soccer bleachers and hay bails. The slim snow conditions also forced organizers to cancel almost half of the venue's tickets. More than 4,000 standing room tickets were canceled when conditions became too dangerous and officials feared people could slip through the underlying hay bales near the finish area.
Only Czech Republic skier Zdenek Safar was eliminated from the final rounds after falling on course.
Elimination racing begins at 12:15 this afternoon.
Click here to go the finals story.
Image: Daron Rahlves flies over the final jump during ski cross qualifying. (Eric Williams)