Demong, Hendrickson, Johnson win national titles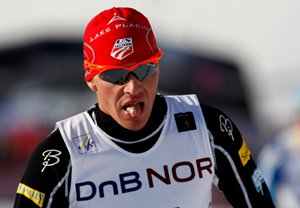 It came down to the last 200 meters of the roller skiing leg but Olympic champion Billy Demong grabbed his eighth career national title at Fox River Grove Ill., Sunday with a powerful sprint past unheralded Bryan Fletcher for the U.S. Nordic Combined crown.
It was the fourth time the event has been held during the summer. Demong said he was happy to see the event held at the Norge Ski Club facilities at Fox River Grove.
"The best part of this weekend is that we were able to bring a U.S. Championship to a club that hasn't held it but one other time in 100 years, and as one of the biggest, oldest ski clubs in America. It helps boost the exposure of the sport, coming to a place like Chicago, as well as helping to connect with other clubs. A lot of people came out to support."
Crowd estimates of 1,000 spectators came out to see the US Jumping and Nordic Combined Championships.
Demong had edged Fletcher in the jumping leg 225.7 to 225.1 and chased down the younger competitor in the running leg to win in 26:16.9. Veteran Johnny Spillane, eighth in jumping at 218.5 closed to finish second in 26:16.9 with Fletcher third at 26:10.0. At 25, Fletcher is six years younger than Demong. Erik Lynch, a 21 year old posted fifth.
"I was psyched to see the younger guys competing really strong. We're starting to see that next group moving up to get to an international level and that's really important," Demong said.
In the pure jumping competition Sarah Hendrickson got her first national title with the men's title going to Anders Johnson.
"This is my first title," said Hendrickson, "so it's really good to see that I can hopefully do well this winter if I continue to jump like this. I'm super happy that I have good results going into the winter season."
Johnson said he had rounded into shape at just the right time. "I've started to have some better jumps in the later part of the summer, so hopefully I can carry that over into the season. It's been a while since I've had some good domestic and international jumps," he said. Johnson has spent big chunks of the last two seasons on the injury list.
The win by Johnson was overshadowed by that of Hendrickson. At 17 years she handily out jumped the field with her second leap of 73meters and said it was all due to the work she's been doing this summer.
"I've been working on keeping my hips high while in the air, which allows you to build more height over the knoll and gain distance," she said. "On the second jump (Saturday), I worked on that one specific thing and it helped."
Alissa Johnson, sister of the men's winner Anders, finished second.
Photos of Billy Demong (above) and Sarah Hendrickson (cover) are from last season by Gepa