Canadian ski cross joins Alpine Canada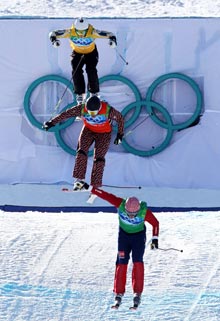 CALGARY, AB (June 21, 2010) – Canada's ski cross racers will receive increased support from Alpine Canada starting this World Cup season as Canada Ski Cross (CSC) builds upon a successful 2010 Olympic Winter Games, the governing body of ski racing in Canada announced today.

Canada's ski cross racers are joining the national alpine ski team in being governed by ACA, benefitting from the shared use of facilities, technical expertise and other resources.

ACA Chief Athletics Officer Max Gartner said having Alpine and Ski Cross under one governing body in Canada will maximize opportunities for skiers to reach their potential and create winter sport champions in Canada.

"We believe this partnership makes the most sense for the athletes. That integrating Ski Cross and Alpine will enable the smoothest transitions for athletes who are possibly making the switch. Ultimately, it is aimed at maximizing our ability to create champions in each respective discipline," said Gartner.

"Ski Cross really captured the public's imagination in 2010 as an exciting and fun new sport that young people want to be a part of. So we're excited about the opportunities that this partnership offers in reaching an even bigger audience of Canadian winter sport enthusiasts," Gartner said.
"Canadian ski cross athletes quickly developed into an international power thanks to the financial support provided by Own the Podium leading into the 2010 Olympic Winter Games," said Nick Bass, Own the Podium high-performance advisor. "With the increased resources now available through the integration with Alpine Canada Alpin, ski cross athletes are well positioned to build on their international success well into the future."

Canada was among the first nations to form a national ski cross organization after the International Olympic Committee (IOC) announced in 2006 that the sport would be part of the 2010 Olympic Winter Games.

"The sport of ski cross has its roots deeply embedded in the alpine system with many current national ski cross team members getting their start in alpine. We are looking forward to working together to develop world class ski cross racers," said Canada Ski Cross Sport Director Dave Ellis, who had been the Director of Sport Science for ACA prior to taking his current position in 2008.

"We are committed to sustaining the success achieved in 2010, with a gold medal performance and three other Top 6 performances at the Olympic Winter Games. We look forward to growing this partnership and developing the sport in Canada," Ellis said.

Ashleigh McIvor became the first ever women's Olympic Ski Cross champion in 2010, while the team's success included finishing on top of the Nation's standings following the World Cup Finals in March.

"I'm really excited about the direction that alpine will take us in," said McIvor. "The skill set that athletes develop training as alpine racers is essential in producing strong ski cross competitors, and it will be great to utilize the resources of the established, well-oiled machine that the alpine organization has become."