Lodwick takes sprint title at Lillehammer, again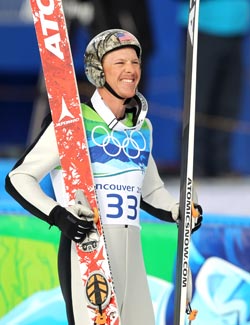 Lodwick led the U.S. team in qualifications, finishing second, followed by Nick Hendrickson in sixth, Billy Demong 14th, and Bryan Fletcher 16th.
The race was in a head to head format with Lodwick and Hendrickson both making it past the round of eight. Hendrickson was matched against nordic powerhouse Magnus Moan but was able to beat him in photo finish to advance to the quarter finals. And, finally, after four head to head sprints, number two seeded Lodwick out-sprinted number one seed Jonas Nermoen for the victory in front of an estimated 1,500 Norwegian fans.