Aerialists Peterson, Schnoor win Olympic Trials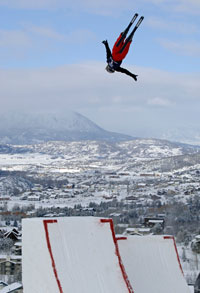 U.S. aerials skiers Jeret "Speedy" Peterson and Lacy Schnoor won early spots on the USA Olympic Team today (Dec. 24) at the Olympic Trials in Steamboat, Colo. The winner-take-all event was designed to give two skiers a chance to seal their 2010 Olympic fate early. The remaining members of the team will be named, according to World Cup results, in late January.
The trip to Vancouver will be Peterson's third Olympic appearance; he finished in the top ten in both the Salt Lake City and Torino Games. "I'm really excited this time. It's a lot more pressure than it ever has been before," Peterson said. "I was really excited with my jumps today. It's been a big hectic week traveling to and from China, so I am happy I could perform the way I did."
This will be the first Olympic experience for Schnoor, a U.S. B-Team athlete who has been competing on the World Cup since 2005 but never finished better than eighth.
"I can't believe that I'm going to go to the Olympics and I can't wait to represent our country. I hope I go out there and do well," Schnoor said.
Schnoor landed a tricky double-full, full, which is two flips with two twists on her first flip and one on her second, and full, double-full, which is a full twist on her first flip and two twists on her second. "That was my fifth one on snow ever, so I am so glad I landed it," said the Utah native who beat out her teammate Emily Cook (third), the favorite going into today's competition. "The first one yesterday - I was nervous, but I'm actually more comfortable doing that trick than full double full, so I'm glad I did it and I'll be happy to continue doing it."
Second place in women's event went to Ashley Caldwell who only made the national team a week ago after winning at U.S. Freestyle Selection event.
"It hasn't really set in yet. I was surprised to be that far ahead, but I'm just excited to be here and hopefully later in the season I'll make it to the Olympics," Caldwell said.
Dylan Ferguson finished second in the men's competition. "I'm not disappointed at all. I landed two of the best jumps I've done all year and that's awesome for me," Ferguson said.
World champion Ryan St. Onge finished third.
Today's competition will air Dec. 26 on NBC at 2:30 p.m. ET.
Image: Lace Schnoor jumps her way to Vancouver. (USSA)

OFFICIAL RESULTS
2010 Olympic Trials
Steamboat Springs, CO - Dec. 24, 2009
Aerials

Men
1. Jeret Peterson, Boise, ID, 258.21
2. Dylan Ferguson, Amesbury, MA, 231/23
3. Ryan St. Onge, Winter Park, CO, 206.74
4. Nevin Brown, Streetsboro, OH, 201.63
5. Scotty Bahrke, Tahoe City, CA, 196.05
6. Matt DePeters, Hamburg, NY, 166.94
Women
1. Lacy Schnoor, Draper, UT, 177.83
2. Ashley Caldwell, Lake Placid, NY, 174.57
3. Emily Cook, Belmont, MA, 168.14
4. Jaime Myers, Boise, ID, 141.91
5. Jana Lindsey, Black Hawk, SD, 128.38
6. Allison Treleaven, Fort Wayne, IN, 95.38
# # #