Heil, Begg-Smith win moguls World Cup in Calgary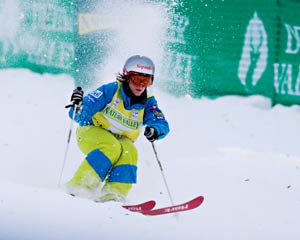 Torino Games gold medalists Jennifer Heil of Canadian and Dale Begg-Smith of Australia won the third event of the moguls World Cup season tonight (Jan. 8) under the lights in Calgary, Canada.

The Czech Republic's Nikola Sudova took second in the women's event ahead of, Austria's Margarita Marbler in third. The win marked Heil's 22nd World Cup victory and gave the local crowd plenty to cheer for after honoring her last weekend with a street named after Heil in her hometown of Spruce Grove, Alta.
"I was so excited to be out here in my home province, with all my friends and family here," Heil told the Associated Press. "The site's beautiful. It's such an honor to be able to showcase the sport to Albertans."
Americans Heather McPhie and Emiko Torito, finished fourth, and fifth, respectively. Teammates Shannon Bahrke (7th) and Shelly Robertson (8th) also made the top ten as they all fight for coveted spots on the Vancouver Olympic team.
"McPhie skied great," said U.S. Ski Team freestyle head coach Jeff Wintersteen. "She's had a couple fourths before, but in the Olympic year it's really good for her to get that result."
Last season's World Cup champion, American Hannah Kearney finished 11th. She has only finished outside the top-ten in a World Cup competition twice since 2006. Kearney already secured her Olympic berth in Vancouver, winning the Olympic Trials Dec. 23.
Canadian Kristi Richards (sixth today) now leads in the overall World Cup moguls standings, 15 points ahead of Heil in second and Kearney, 36 points back in third.
On the men's side, Canadian Vincent Marquis took second for his eighth career World Cup podium. Russia's Alexandr Smyshlyaev took third, climbing on his second career World Cup podium. The win was Begg-Smith's 16th World Cup career victory.
Michael Morse (6th) and Sho Kashima (7th) led the U.S. Team, while teammate David Babic grabbed the final top-ten spot.
Sweden's Jesper Bjoernlund (fifth today) now leads the overall World Cup points race, 50 points ahead of Begg-Smith in second and American Bryon Wilson (33rd today), 85 points off the pace in third.
World Cup competition continues tomorrow in Calgary with a second round of men's and women's moguls competition. The Aerialists will get their turn with a World Cup competition in Calgary Sunday Jan. 10. - Eric Williams
Image: Jennifer Heil (Freestyle Canada)

Women's Results

Men's Results