The Vermont Ski Museum to present the Paul Robbins Ski Journalism Award to Ski Racing's Hank McKee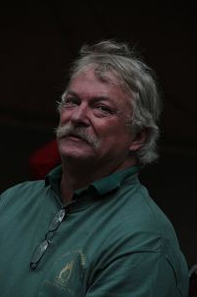 The Vermont Ski Museum will recognize long time ski writer Hank McKee with the Paul Robbins Ski Journalism Award on October 24, 2010 at its Annual Hall of Fame Induction Ceremony.
McKee grew up in Fredonia, NY. His mother taught first grade and college seniors and his father was an editor of the local paper. It is not surprising that, as he said in an interview, "Writing was always the one thing in school I could do and not feeling self conscious." He skied at a small local area of 100 vertical feet and a rope tow, but that was enough to get him hooked.
He started the high school ski team, and at his first professional writing position at the Dunkirk-Fredonia Evening Observer, he initiated a ski column. He started at the Evening Observer working summers while in college. After he graduated, the position opened and he "wrote the history of [his] hometown for four or five years."
From 1977-1980, he handled the now United States Ski and Snowboard Associations (USSA) publications from its Brattleboro, VT, headquarters. In 1980 he took a job with Ski Racing, and has worked there on and off for these 30 years.
In those 30 years, McKee has covered primarily men's and women's alpine racing and also Nordic, freestyle, and pro racing. He has adjusted his time and style to accommodate the evolution of reporting from manual typewriters and telex numbers to mainframe computers to reporting within 20 minutes on races watched live on the internet. His extensive stories on racers have often been their first in national press. Beginning in 1988, he has covered the Olympics; he served on the press committee for the Salt Lake games.
A competitor himself, McKee participates in barbeque competitions and in the St. Divot's Annual Golf Tournament run on his property for the last 20 years, plus continues to play with his high school rock and roll band. McKee described his life: "We eat well, we keep busy, and I love what I do, so what more is there to life, that is perfect."
For tickets to the presentation of the Paul Robbins Ski Journalism award and Annual Hall of Fame Induction on October 24, 2010, please visit www.vermontskimuseum.org.

Well known for wearing a Scottish tam, Paul Robbins started writing about ski racing in the 1960s. His work appeared in many magazines, including Skiing, SKI and Ski Racing. Robbins worked at eight Winter Olympics, every one since 1980 in Lake Placid. He had served as a press officer for the U.S. Ski Team, as well as a commentator on Nordic sports for CBS and NBC. He was a friend to athletes, coaches, administrators, writers, and readers. He died unexpectedly at age 68 in 2008.
The Paul Robbins Ski Journalism Award recognizes ski journalists who, with the same commitment as Paul Robbins, perform his/her skill in written, broadcast, or photo journalism with ethics, humor, good taste and always with the promotion of Vermont skiing and the larger skiing community in mind. The recipient shall not be awarded solely on the basis of one story, but rather a lifetime of service to the ski community. The award will be given when the demand exists. Typically, the award will be given out at the Vermont Ski Museum Hall of Fame Induction Ceremony. The Vermont Ski Museum Board of Directors approved the foundation of this award in July 2008.
The Vermont Ski Museum is a 501 (c)(3) non-profit organization whose mission is to collect, preserve and celebrate Vermont skiing history. The museum is located at the corner of Vermont Routes 100 and 108 in the center of Stowe village and is open 12-5 daily, except for Tuesdays. Donations and tax deductible individual and business memberships allow the museum to fulfill its mission. For information on events or to become a member: visit www.vermontskimuseum.org