Canadian bumper Marquis retires from national team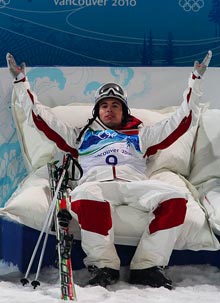 September 21, 2010 - Canadian Mogul skier Vincent Marquis has announced that he is retiring from the Canadian National Freestyle Ski Team.
After eight years on the team, a fourth-place finish at the Vancouver 2010 Winter Olympic Games, a bronze medal at the 2009 World Championships and 20 top-ten FIS World Cup finishes, Marquis said he is ready to move on to the next stage of his life, one that includes full-time studies and, for now, a trip back to his roots on the football field.
Marquis said that it was always his plan to retire at the end of the 2009-10 season, however his Olympic experience almost changed his mind.
"The Olympics were so exciting, it really made me reconsider my plan and maybe go for another four years on the circuit." But, after careful consideration, and a summer away from training that gave him the opportunity to enjoy some R and R with his friends and family in Quebec City, he said, "I realized I'm not ready to make all the sacrifices necessary for another shot at the Olympics."
In fact, Marquis said that he really hasn't missed skiing this summer and that he's very excited to begin full-time studies in physiotherapy at Laval University.
What he has missed are his teammates, including his brother and best friend, Philippe Marquis, and, particularly, his coaches - Men's Mogul Program Head Coach Rob Kober and Moguls Strength and Conditioning Coach Adrian King. Marquis said, "I had a great relationship with these two guys and because of them I had a good career and lots of fun. I'm really thankful to them."
He added that he expects to use the key lessons he learned from Kober and King in his next endeavors, including his new job as a football coach at CEGEP Limoilou in Quebec City. Before becoming a world-class mogul skier, Marquis was a AAA football quarterback, so when the coaches at Limoilou heard he was thinking of retiring they snapped him up to join their squad.
"I learned from Rob and Adrian that the keys to a good coaching relationship are trust, communication and respect; I'm going to use those lessons with my football kids," said Marquis.
During his tenure on the Canadian National Freestyle Team Marquis earned admiration and respect for both his athletic prowess and his attitude. CFSA High Performance Program Director David Mirota said, "Vince is a great all-around athlete and a great model for the younger members of the team. He's been through some setbacks and injuries, but his strong work ethic and perseverance led him to be one of the best mogul skiers in the world in the past three to four years."
King extrapolated, "I've had the pleasure of working with Vince since the 2003-04 season, unfortunately, he was only with the team for a couple of weeks before he tore his ACL. At that point, Vince was a skinny, quiet, 19-year-old kid who was definitely a talented athlete, but wasn't yet at the same level as the other members of the World Cup team. That was about to change. After working hard to rehabilitate his knee, Vince came back stronger and more focused."
"Because of his great work ethic, commitment to training, and determination over the next few seasons, Vince developed into one of the single most gifted and well-rounded athletes that I have ever worked with. His desire to make it to the 2010 Olympic Games was amazing and it was obvious to everyone around him that he would be in Vancouver challenging for an Olympic medal. One of my favorite moments is watching Vince have one of the best runs of his life at the most important moment in his career, his finals run at the Olympic Games."
Marquis said he hopes to remain involved with Freestyle skiing and will be following the career of his brother Philippe closely. "I'm really excited for Phil, he has a great attitude and a lot of talent. I hope he can put it all together when it counts and I plan to go to Sochi to see him compete at the next Olympics."