Aerials: Caldwell grabs career first World Cup win in Lake Placid, St. Onge second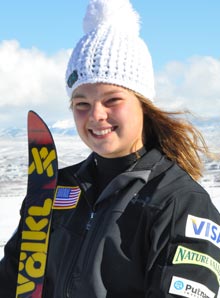 After earning a spot on the U.S. Ski Team just last year, 17-year-old Ashley Caldwell stepped up to her first World Cup victory today (Jan. 21) at her training base in Lake Placid, NY to kick off this weekend's Nature Valley Freestyle Cup.
Before today, Caldwell, a Charleston, SC native, had never finished higher than 10th or lower than 13th in any of the previous four World Cup events she had competed in. With a score of 187.65, the Elite Air Program product blew her previous high mark out of the water with the win over Belorussian Alla Tsuper (186.42) in second and China's Xu Mengtao (183.82) in third.
American veteran Emily Cook scored a 175.54 in fourth to match her performance in the Mont Gabriel World Cup a week ago. Fellow Americans Allison Lee and Alexa Devereaux also scored World Cup points in 17th and 18th, respectively.
On the men's side, it was China's Qi Guangpu taking his second career victory with a score of 250.70. Defending World Champion, American Ryan St. Onge (246.21) took second to secure his ninth career World Cup podium. Last season's overall titleholder and last season's winner here Anton Kushnir (241.42) rounded out the podium in third.
American Dylan Ferguson landed his second top-10 finish in as many competitions in 10th after finishing ninth last week in Mont Gabriel.
Four other American men earned valuable World Cup points as qualification heats up for the upcoming World Championships in Deer Valley, Utah in February. Nevin Brown finished 17th for his best finish in three World Cups. Michael Ross, Jonathon Lillis and Scotty Bahrke all secured points finishing 22, 27, 30.
Remi Belanger led the Canadian men in 9th followed by teammate Travis Gerritis in 18th.
World Cup competition continues in Lake Placid tomorrow and Sunday with a pair of women's and men's moguls competitions.
Head shot by Katie Perhai/U.S. Ski Team, Front page image by Olympic Regional Development Authority.
Women's Results
| | | | | | | | | |
| --- | --- | --- | --- | --- | --- | --- | --- | --- |
| Rank | Bib | FIS Code | Name | Year | Nation | Result | Level | Points |
| 1 | 17 | 2526863 | CALDWELL Ashley | 1993 | USA | 187.65 | | 1000.00 |
| 2 | 10 | 2192518 | TSUPER Alla | 1979 | BLR | 186.42 | | 800.00 |
| 3 | 1 | 2526230 | XU Mengtao | 1990 | CHN | 183.82 | | 600.00 |
| 4 | 13 | 2180102 | COOK Emily | 1979 | USA | 175.54 | | 500.00 |
| 5 | 5 | 2406021 | VOLKOVA Olga | 1986 | UKR | 175.36 | | 450.00 |
| 6 | 8 | 2484528 | SCHAERER Tanja | 1989 | SUI | 169.86 | | 400.00 |
| 7 | 16 | 2484885 | POLYUK Olga | 1987 | UKR | 166.93 | | 360.00 |
| 8 | 9 | 2379055 | DIDENKO Nadiya | 1986 | UKR | 162.50 | | 320.00 |
| 9 | 22 | 2526217 | LEE Crystal | 1988 | CAN | 157.01 | | 290.00 |
| 10 | 20 | 2527930 | PEEL Laura | 1989 | AUS | 155.69 | | 260.00 |
| 11 | 4 | 2529017 | XU Sicun | 1992 | CHN | 150.55 | | 240.00 |
| 12 | 14 | 2526216 | GUERIN Sabrina | 1985 | CAN | 140.48 | | 220.00 |
| 13 | 12 | 2485033 | HUSKOVA Hanna | 1992 | BLR | 79.46 | | 200.00 |
| 14 | 6 | 2416400 | ZHAO Shanshan | 1987 | CHN | 77.8 | | 180.00 |
| 15 | 2 | 2438807 | CHENG Shuang | 1987 | CHN | 75.08 | | 160.00 |
| 16 | 3 | 2439777 | ZHANG Xin | 1985 | CHN | 71.2 | | 150.00 |
| 17 | 27 | 2484519 | LEE Allison | 1989 | USA | 69.16 | | 140.00 |
| 18 | 26 | 2528011 | DEVEREAUX Alexa | 1991 | USA | 69.03 | | 130.00 |
| 19 | 19 | 2526676 | AINSWORTH Sarah | 1985 | GBR | 62.06 | | 0.00 |
Men's Results

Rank
Bib
FIS Code
Name
Year
Nation
Result
Level
Points
1
2
2526229
QI Guangpu
1990
CHN
250.70
1000.00
2
15
2263813
ST ONGE Ryan
1983
USA
246.21
800.00
3
3
2193294
KUSHNIR Anton
1984
BLR
241.42
600.00
4
17
2306688
ISOZ Andreas
1984
SUI
232.87
500.00
5
21
2192615
ABLAEV Enver
1979
UKR
222.25
450.00
6
8
2484526
GUSTIK Maxim
1988
BLR
221.83
400.00
7
6
2330841
ULRICH Renato
1983
SUI
218.14
360.00
8
7
2472951
ABRAMENKO Oleksandr
1988
UKR
208.6
320.00
9
23
2526057
BELANGER Remi
1987
CAN
205.19
290.00
10
19
2343160
FERGUSON Dylan
1988
USA
204.94
260.00
11
22
2416788
LI Ke
1985
CHN
204.32
240.00
12
5
2438904
WU Chao
1987
CHN
201.17
220.00
13
41
2360140
OSIPAU Denis
1983
BLR
100.82
200.00
14
1
2527482
JIA Zongyang
1991
CHN
100.44
180.00
15
11
2312217
LAMBERT Thomas
1984
SUI
99.23
160.00
16
31
2527790
MEDULICH Petr
1991
RUS
99.15
150.00
17
29
2485223
BROWN Nevin
1989
USA
98.82
140.00
18
20
2525948
GERRITS Travis
1991
CAN
96.39
130.00
19
12
2416982
LIU Zhongqing
1985
CHN
94.03
120.00
20
24
2308434
LEBEDEV Vladimir
1984
RUS
93.75
110.00
21
38
2527527
MARUSHCHAK Ivan
1988
RUS
91.96
100.00
22
26
2527740
ROSSI Michael
1994
USA
91.65
90.00
23
27
2527536
KROTOV Pavel
1992
RUS
86.67
80.00
24
25
2526709
TABARA Naoya
1980
JPN
86.67
70.00
25
28
2527534
BUROV Ilya
1991
RUS
84.74
60.00
26
10
2330938
HAECHLER Christian
1983
SUI
84.54
50.00
27
35
2527147
LILLIS Jonathon
1994
USA
82.66
45.00
28
14
2526134
LYSIANSKYI Sergii
1985
UKR
81.81
40.00
29
39
2064090
GETTY Clyde
1961
ARG
74.96
36.00
30
18
2398843
BAHRKE Scotty
1985
USA
74.78
32.00
31
36
2485212
GARDNER Hans
1989
USA
73.67
0.00
32
34
2484953
ANDRE Jean-Christophe
1989
CAN
61.15
0.00
33
40
2484608
DOBRANSKY Roman
1992
CZE
34.89
0.00
Did not start
2485224
DEPETERS Matthew
1987
USA
2527535
NIKITIN Alexander
1992
RUS
2074178
KRAVCHUK Stanislav
1978
UKR