Gear Guide:HWK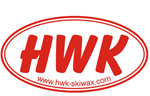 HWK Ski Wax is based in Ebbs, Austria and makes the best glide wax available for alpine, Nordic, and snowboard competition.  This premium wax line is imported into the US and Canada by HWK Ski Wax Vail LLC.
HWK Ski Wax produces the best World Cup wax for every need and snow condition. HWK makes premium waxes for ski prep, training, and racing.  All HWK waxes are hand made in Austria.   Each type of wax is created in small batches using the finest ingredients.  HWK is proud to have the only waxing APP for iPhone and Android phones! (FREE)  The APP is a waxing calculator for determining the wax of the day.
Check out the HWK APP!  HWK SKI WAX waxing calculator. This APP is available for iPhones and Android phones.  Go to the respective stores, type in "HWK Ski Wax" and download for FREE!  This allows the individual to select the wax of the day for training, racing, or World Cup level competitions at his or her finger tips!
http://www.hwk-skiwax.us/HWK-Skiwax-App/
Videos
HWK Waxing Instruction Guide from Kjell Ellefson on Vimeo.
You Tube videos: Waxing like a pro!  Download these you tube videos to learn and or refresh your waxing skills.
Alpine: Base waxes
Alpine: Liquid waxes

Alpine Paste Waxes

Alpine: Fluor Powder Waxes

Alpine: Fluor Stick (Pen) ROTO CORK

Alpine: Fluor Stick (Pen) and Liquid: Final race overlay preparation: HAND CORK

Company Contact
email: info@hwk-skiwax.us
Phone: Karl Höchtl 970-376-6466,
Kevin Höchtl 970-390-8933