Aerials: Kushnir, Li take Mont Gabriel World Cup and overall titles
Tweet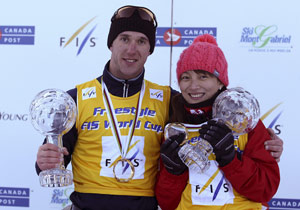 MONT GABRIEL, Canada (Jan. 30) – When you're good, you're good.
Aerials skier Anton Kushnir of Belarus is definitely good at what he does. The 25-year-old jumper landed on all six of this season's World Cup podiums and won the last three consecutive contests leading up to the Vancouver Games. Tonight's win came in Mont Gabriel, Canada at the final World Cup event of the season along side women's victor and fellow World Cup leader, China's Li Nina.
The duo also convincingly took away the crystal globes for the World Cup Aerials overall men's and women's titles.
"I'm happy. Every competition this year was good for me, a podium," Kushnir told Canwest News. "I really like it here. This place seems to be very good for me. I jump well here. The Olympics, I do my best not to think about it. I just want to go there to try to do my best."
China's Qi Guangpu finished second on the men's side ahead of three Swiss skiers. Renato Ulrich, Christian Haechler and Thomas Lambert finished three, four five.
With the majority of its Olympic Team athletes at a camp in Park City, Utah the U.S. Team sent younger skiers Scotty Bahrke, Matt DePeters and Nevin Brown to get some bonus World Cup experience. Bahrke led all North Americans with a season-high ninth-place finish after making his first final round of the year. Olympic bound DePeters also made the final round and ended up 11th. Brown also scored points in 23rd.
No Canadian men mad the final round at home as Travis Gerrits, four-time World Cup champion and two-time winner here Steve Omischl and Jonathan Vellner finished 14, 16, 22.
Qi finished second overall on the season ahead of teammate Jia Zongyang in third.
On the women's, the Chinese athletes were up to their old tricks – wining. Li had the clear win with a 200.57 score, more than 15 points ahead of teammate Cheng Shuang in second. Assoli Slivets of Belarus rounded out the podium in third. It was Li's second second win of the season and her fifth World Cup podium.
Canadian Sabrina Guerin led the North American effort in 13th place. Jamie Myers led the U.S. in 15th, her best World Cup finish since 2008. Teammate Allison Treleaven finished 22nd.
Li ended up with 436 points on the season, 90 points ahead of teammates Guo Xinxin in second and Xu Mengtao in third.
"This has been a very good year for me," said Li. "This year has been much, much better than last year because of a new coach, a new (approach) and doing harder jumps."
Women's aerials Olympic qualifying begins Feb. 20. The men qualify Feb. 22.
Images by Freestyle Canada
Women's Results

Men's Results
Comments
comments