Aerials: Lassila, Kushnir win Deer Valley World Cup
Tweet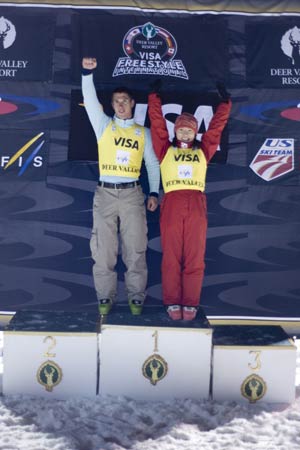 PARK CITY, UT (Jan. 15) – Australian Lydia Lassila and Belarusian Anton Kushnir won World Cup aerials contests tonight (Jan. 15) at the Visa Freestyle International at Deer Valley, Utah.
Thousands of fans packed the base of the White Owl run, the site of the aerials events during the Salt Lake 2002 Games, under, clear cold skies.
Kushnir came into Deer Valley in the yellow World Cup leader bib and hung on tight, scoring 264.05 points after two jumps to beat second-place finisher, Chinese jumper Qi Guangpu (255.87). Kushnir's teammate, 32-year-old Dmitri Dashinski finished third (252.69).
"I'm really glad for my finish today and glad for four starts and four podiums," said Kushnir, who has podiumed in all four of this season's World Cups, he's won two. "Things are going really good, and I hope in Vancouver to continue this good feeling."
Dylan Ferguson led the U.S. with a World Cup career-best, sixth-place finish ahead of teammate and two-time winner here Jeret "Speedy" Peterson in 12th place. Peterson guaranteed his Olympic berth by winning the Olympic Trials on Christmas Eve.
"It's awesome for me right now, I'm really getting excited going into the Games," said Ferguson who performed two quad twisting triple back flips. "This is my best result so far and it feels really good."
Three-time winner here (including last year's competition) American Ryan St. Onge, along with last season's second place finisher, defending World Cup champion, Canadian Steve Omischl were eliminated from the final after missing their landings during qualification.
Kushnir now leads the overall standings by 104 points. His closest competitor is Chinese jumper Jia Zongyang in third followed by teammate Qi in third, 155 off the lead.
Lassila claimed her 10th career World Cup win tonight, ahead of five Chinese jumpers who finished two through six. Xu Mengtao finished second ahead of last weekend's winner, Li Nina in third.
"I did a new trick yesterday and landed it, which is a huge step forward, there are only two of us that have done that," said Lassila. "That's a huge step forward and it's going to change the scoring and some girls are going to have to step up because we're not stepping down."
Lassila, the defending World Cup champion, notched a total score of 220.91 points to rewrite the record books. The previous high score by a woman was set by her teammate Jacqui Cooper (seventh tonight) at the Torino 2006 Games.
Only two American women (15-year-old Ashley Caldwell and U.S. Olympic Trials winner Lacy Schnoor) qualified for finals. Schnoor's rough landing pushed her to ninth place and Caldwell finished 10th in her second World Cup.
American favorite Emily Cook, two-time bronze medalist here, didn't compete after she and U.S. Ski Team doctors decided she ought to continue to rest a heel she bruised at last week's World Cup in Calgary.
Chinese jumper Guo XinXin (fourth tonight) now leads in the overall standings, 29 points ahead of Xu in second. Li is only 34 points behind Guo in third.
The Visa Freestyle International continues tomorrow (Jan. 16) at Deer Valley with a second singles moguls night competition.
Image: World Cup leaders Kushnir and Guo. (James Winegar/Karmabe Photography)
Men's Results
Women's Results

Comments
comments