Aerials: Li, Jia win Calgary World Cup; Cook sixth
Tweet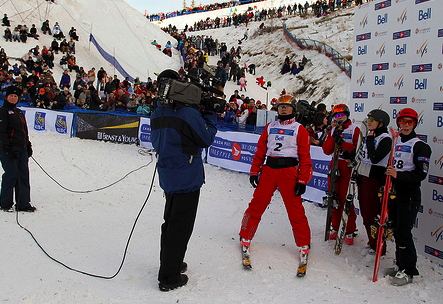 After two days of World Cup moguls competition in Calgary, it was the aerialists' turn today (Jan.10) as Chinese jumpers Li Nina and Jia Zongyang took home the wins.
The women's competition was once again dominated by Chinese jumpers as defending world champion, Li claimed her 15th career World Cup victory ahead of her two teammates, World Cup overall leader Guo XinXin in third and Zhang Xin in fourth. Switzerland's Evelyne Leu took second, climbing on her 21st career World Cup podium.
American Emily Cook led all North Americans in sixth place – her World Cup season high through three competitions. Teammates Ashley Caldwell (11th), Jana Lindsey (16th) and Lacy Schnoor (18th) also landed in the top 20. Caldwell, in particular, had a lot to smile about with such strong results in her first World Cup competition. The 15-year-old took second place at the Olympic Trials held Christmas eve (an event in which Schnoor won a guaranteed spot on the 2010 Olympic team) only a week after becoming a member of the U.S. Ski Team.
"There was a weather change. No one was hitting good takeoffs, the snow turned into sugar. Iand it wasn't that hard packed snow we were aiming for," said U.S. freestyle ski team aerials coach Matt Christiansen. "The whole women's and men's events were not good just really bad. Not just from performance, but it was the lowest scoring semi-finals I have ever seen in my 12 years on the World Cup."
"Actually, what Ashley did as a 15-year-old today was quite amazing," Christensen continued. "This was her first World Cup and to make finals without even doing the higher-DD tricks she's capable of is quite a credit to her."
The top Canadian woman was Genevieve Tougas in tenth place, followed by Amber Peterson in 15th and Sabrina Guerin in 17th.

Guo now leads the World Cup standings, 44 points ahead of Li and 51 points ahead of Xu Mengtao (ninth today).
Jia, 19, topped the men's podium for his second career World Cup victory, followed by three Belorussians in the top four. World Cup overall leader Anton Kushnir claimed second followed by teammates, 2002 Olympic bronze medalist, Alexei Grishin in third and Timofei Slivets in fourth.
The top North American was last season's world champion bronze medalist, Canadian Warren Shouldice in sixth place, followed by American Dylan Ferguson in seventh. The result was Ferguson's World Cup career high, his previous best finish came last season when he finished 11th on the Olympic jumps of Cypress Mountain.
"Dylan did a really nice full- double full- full and he was sitting in sixth after the first jump. Speedy also did a full- double full- full and he was in second place," Christiansen said. "But in finals the conditions changed and were really slow. Dylan had to really work that last trick to end up seventh. Speedy went for the Hhurricane and got caught up in the sludge on the jump and ended up just doing a triple twisting triple."
U.S. Olympic Trails winner Jeret "Speedy" Peterson finished 12th ahead of teammates, World Champion Ryan St Onge in 25th and Scotty Bahrke in 28th.
Canadians Kyle Nissen finished 14th and DemocraSki (a social networking website for FIS athletes and officials) founder Ryan Blais finished 19th.
Kushnir now leads the World Cup overall standings, four points ahead of Jia in second and 128 points ahead of Slivets.
Local favorite and defending World Cup champion, Canadian Steve Omischl sat this weekend's competition out with a minor concussion. The 31-year-old hit his head on the snow while training last week at the Canada Olympic Park. He is expected to resume training next week in Deer Valley, Utah.
The moguls skiers and aerialists now make their way to Deer Valley, Utah for the Visa Freestyle International World Cup event Jan 14-16.

Women's Results
Men's Results
Comments
comments