American Randall Second in German World Cup Cross Country Sprint
Tweet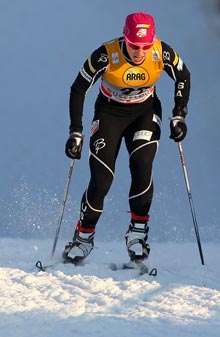 DUESSELDORF, Germany (Dec. 4)- The U.S. Ski Team's Kikkan Randall (Anchorage) attacked hard Saturday in the women's freestyle individual sprints taking second in the first of two days of racing in this centuries old city along the Rhine. Randall was just four-tenths behind winner Italian Arrianna Follis who won with a time of 2:02.30.
Randall skied to an eighth place qualifying time to move on while Vesna Fabjan of Slovenia had the fastest time on the 0.9k loop held in soft snow in the quarter finals. Randall went on to win her heat in the semis, helping to set the stage for her result.
"I felt really good today", Randall said, "Eighth in qualifying was a good start, but I felt so good in the quarters, and my skis were amazingly fast. I was really focused on my tempo with the flat course, which is what I lacked last weekend in Finland." This marks Randall's fifth career podium finish.
For the men the top qualification time was taken by Alexei Petukov of Russia, while the U.S. Ski Team's Andy Newell (Shaftsbury, VT) was the only American man to qualify in third on the 1.7k track but was knocked out after the quaterfinals. His quarters heat was stacked with Olympic and World Champions. "You know, I felt better than my results show, I was second going into the final corner in the quarters."
Winning the men's sprint crown was Emil Joensson of Sweden in a time of 3:38.50, will Fulvio Scola of Italy was second. It is never easy to choose the exact right lane for a final sprint Newell said. "I picked a lane and went for it, but got passed by Emil in the last few meters and that was it. It's frustrating, but I know I can improve next week," Newell added. Newell was the only North American man to qualify.
Organizers brought in 3,000 cubic meters of man-made snow to make the course ready for the 128 skiers from some 18 nations. The track conditions quickly turned to sugar snow, and was very soft.
Compeition will take to the Duesseldorf start line again on Sunday for the men's and women's freestyle team sprint.
Women's Results

Men's Results
Comments
comments