American women sweep moguls podium in Lake Placid
Tweet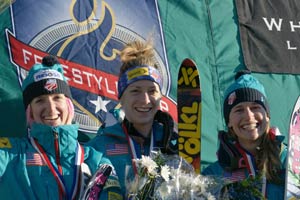 LAKE PLACID, NY (Jan 21.) – It was a good day to be an American woman moguls skier.
U.S. skiers Hannah Kearney, Shannon Bahrke, Heather McPhie and Michelle Roark finished 1,2,3,4 to kick off the Nature Valley Freestyle World Cup this weekend in Lake Placid, New York.
"When I got down and crossed the finish line, I looked to the side and there were three U.S. Team uniforms. It was such a good day for the U.S.," Kearney said. "It's an honor to come out on top, even when it is your teammates because those are the best skiers. It definitely creates some buzz going into the Olympics to have four legitimate contenders for a medal. Any of our team members could do it and it's really exciting for the U.S. Ski Team and for the USA."
The world's best moguls skiers were in action today at the last World Cup event before the Vancouver Games. Those with spots on their Olympic teams were tuning up, those still fighting to get to Vancouver were going all out to make the cut.
Kearney, last season's World Cup champion, was back to her winning ways on her native east coast. The Vermont native started the season with a win at both the World Cup season opener in Sumou, Finland and the Olympic trials in Steamboat, Colo. two days before Christmas. With her second Olympic berth in the bag her results took a dip as she collected 11th, 36th, eighth and fourth-places finishes through the first two thirds of the North American World Cup swing. She appears to be peaking again today with her second World Cup win of the season.
"That was so cool. It's been such a fight for our team and everyone has done so well," Bahrke said. "Everyone is putting down runs that are amazing and to be a part of that is cool. I'm proud of our girls and I think we did a good job today."
Bahrke, a 12-year U.S. Ski Team veteran and Olympic silver medalist, grabbed her second podium of the season after finishing third at last week's event in Deer Valley. McPhie, a member of the U.S. C-Team, is having the best season of her five-year career on the national team. After starting the season with four top-ten World Cup results, she stepped up to her first career World Cup podium at home in Park City, Utah last weekend, sharing a winning tie with Canadian skier Jennifer Heil on the first day of competition at the Deer Valley World Cup. She clenched her first Olympic berth on the second day of competition with a third-place finish. Roark is also warming up ahead of what would be her second Olympic appearance. She took a third-place finish out of Deer Valley.
"To win the last event going into the Olympics is great for my confidence and I needed it," Kearney said. "I've never had any success on this course and it's sort of my home event, so it as nice to overcome that little streak I was having."
Canada's Chloe Dufour-Lapointe broke up the American streak in fifth place ahead of last season's double World champion, Japan's Aiko Uemura in sixth. American Laurel Shanley, who is back to competition after taking three year's off to deal with injuries, earned her season high with a seventh-place finish. Teammate Shelly Robertson was the sixth American woman in the top ten with an eighth-place finish.
After four straight wins, Heil (who didn't compete today) still leads the overall standings with 505 points. McPhie stands second with 416 points ahead of Kearney with 366 points.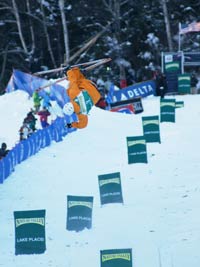 On the men's side, it was Frances' Guilbaut Colas with his second win in as many competitions. The 26-year-old, who is looking at the World Cup as practice for the Games, appears ready for Vancouver after a second and a victory in Deer Valley and a win today. Australian Dale Begg-Smith, who went on a three-win streak in early January, finished second on the day. Swede Jesper Bjoernlund, double winner at the World Cup opener in Suomu, Finland, took third and stepped up to his third career podium.
The American man didn't fare nearly as well as the women as Michael Morse led the team in fifth place, his season high. Bryon Wilson, who secured his Olympic ticket with a pair of second-place finishes at the season opener and two top-20 results in Deer Valley, finished eighth today. World champion Patrick Deneen (37th today) also guaranteed himself his first Olympic berth by winning the Olympic Trials in late December.

Canadians Alexandre Bilodeau (fourth), Philippe Marquis (sixth) and Cedric Rochon (10th) also pulled in top-ten finishes in Lake Placid.
Begg-Smith still leads in the overall standings, 143 points ahead of Bjoerlund in second and 185 points ahead of Colas in third.
The final U.S. Olympic Freestyle skiing team will be announced Jan. 26.
World Cup competition in Lake Placid continues tomorrow with an aerials night event. A World Cup ski cross race will take place on Sunday.
Images by USSA
Women's Results

Men's Results

Comments
comments