Americans Kearney, Deneen win World Cup moguls opener
Tweet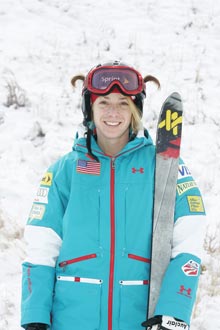 American moguls skiers Hannah Kearney and Patrick Deneen won the first World Cup Moguls competitions of the season today (Dec. 11) in Ruka, Finland.
Kearney, the defending Olympic gold medalist, edged her longtime rival Jennifer Heil of Canada (Olympic silver medlaist) by 0.07 points. Fellow Canadian Kristi Richards finished third ahead of American Eliza Outtrim in fourth place. The win marked Kearney's 11th career World Cup victory.
"I was focused on my trick through the midsection," said Kearney, who performed a heli mute grab for the firs time in competition. "I was a little off balance on the second jump." She pulled in the landing and finished with the fastest time and highest turn score to just edge out Canadian Jennifer Heil.
"The course was nice, difficult with deep tight moguls. It required perfect balance and was very skilful," said Kearney, adding, "Today was my mom's birthday and I really wanted to win for her."
It was a great day for the North American women as Canadians Justine DuFour-LaPointe and Audrey Robichaud finished 5-6 and U.S. skiers Heidi Kloser and Heather McPhie landed in the top 15 with 10th and 13th-place finishes, respectively.
On the men's side, Deneen, a seven-time World Cup podium finisher and defending World Champion, grabbed his first World Cup win. Canada's Mikael Kingsbury finished second for his first World Cup podium ahead of Frenchman Guilbaut Cola in third.
"Patrick did a great job," said U.S. moguls head coach Scott Rawles. "He has retooled his jump package which allows him to be even faster, which has always been a strength of his."
Deneen's new jumps are an off-axis 720 on the first hit and a crossed back flip on the second jump.
Comments
comments