There is only one chance for World Cup women to shine on home turf, and that opportunity is coming this weekend with the 2009 Winternational in Aspen, Colo.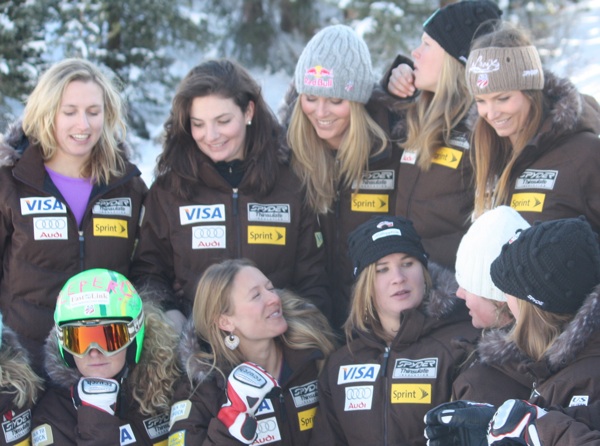 Lindsey Vonn, Julia Mancuso, Megan McJames, Stacey Cook, Leanne Smith and Sarah Schleper will start in Saturday's giant slalom and Vonn, Mancuso, Schleper, Hailey Duke, Sterling Grant, Kaylin Richardson and Julia Ford will start in Sunday's slalom.
In the wake of Resi Stiegler's season-ending crash last week at Copper Mountain, Smith will take her starting spot in the GS. It will be Smith's first World Cup since last January's downhill in Cortina, where she tore her ACL and was sidelined for the rest of the season.
"In our time trial last week, Leanne was second to Stacey and she was going to forerun the race anyway," said U.S. Women's Head Coach Jim Tracy. "She's worked really hard. We've talked a lot about how she could correct some of the technical issues she was having when she started skiing again. She's been training well. The key will be to maintain that work ethic and philosophy when it counts."
Also, Ford will take Stiegler's place in Sunday's slalom, which will mark her World Cup debut.
"We decided her world ranking was good enough to get in," Tracy said. "She'll get to go out and see what it's like. There are no expectations."
Vonn on the other hand, is hoping to best last year's results in Aspen. It was on this hill that she claimed her best career result in GS with fourth place and also took fourth in the slalom.
"Last year I felt like it was a really good result but I think I can do more," Vonn said from Copper Mountain where she was training last week, as well as training this week on her personal course at Vail's Golden Peak. "I really enjoy Aspen. It's the one chance where I can really show Americans what ski racing is and show how well Americans are doing."
France's Tessa Worley won last year's GS in Aspen, followed by Tanja Poutiainen and Elisabeth Goergl. The Americans were not too shabby with Vonn's fourth, Mancuso's seventh, Schleper's 13th and McJames' 25th.
Sarka Zahrobska claimed the 2008 Aspen slalom crown, followed by Nicole Hosp and Poutiainen while the only other American scoring result after Vonn's fourth was from Duke, who finished 21st.
"Here we are on our home hill and I expect everyone to go out and give it their best shot," Tracy said of the upcoming races. "It's time to put the training aside and step up. Starting this weekend we go full-on every weekend. It's kind of the real start of the season."
Both the GS and slalom courses are run on black-rated terrain finishing at the base of Aspen Mountain. Both courses are injected and wind around significantly with what racers describe as "a lot of terrain."
Aspen received almost 13 centimeters of snow from Sunday to Monday with temperatures in the teens but the rest of the week is forecasted to be dry with temps reaching into the 40s (fahrenheit) this weekend.
by Shauna Farnell

PHOTO: The U.S. Women's Ski Team shares some laughs last week at Copper Mountain, Colo.
Frontpage photo: Elisabeth Goergl takes on last year's slalom in Aspen. (GEPA)