It's no secret that Audi cars have a lot to do with ski racing. Audi is of course, a key sponsor of the FIS World Cup and also the way in which several of the world's top racers travel between venues.
Anyone who caught Lindsey Vonn on the Tonight Show a couple of weeks ago, for example, know that part of her interview was spent discussing how she drives her 600 horsepower Audi RS6 on the German Autobahn at 150 mph.
But Audi is doing its part in promoting ski racing in the United States with an upcoming film, Truth in Motion: The U.S. Ski Team's Road to Vancouver, which will air strategically on Jan. 30 (during the NFL playoffs) at prime time (8 p.m. EST) on NBC. The film chronicles the life of American ski racers, including everything from what it's like to get out of bed long before dawn to begin training on the freezing cold hill all winter to racers putting their life and health on the line every time they reach speeds of 90 mph on a race course to inside tidbits of the lives of racers like Sarah Schleper, who is an athlete on the race hill and a mother of a toddler during every other second of her time.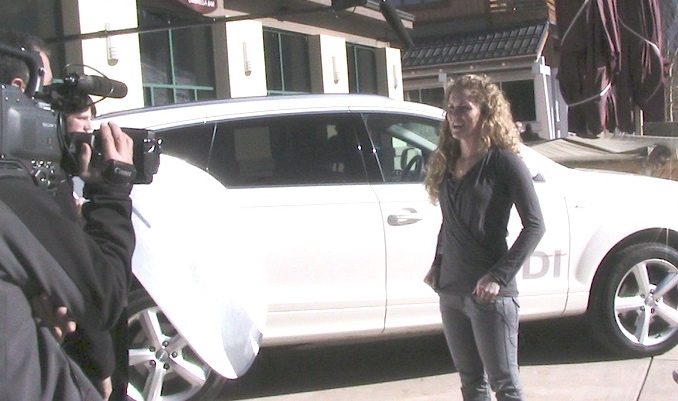 PHOTO: The U.S. Ski Team's Sarah Schleper, who is one of the stars of Audi's Truth in Motion, gets more camera time at Copper Mountain on Nov. 18.
Audi representatives along with Olympic gold medalist Ted Ligety and three-time Olympian Schleper announced the documentary on Wednesday, Nov. 18 at Copper Mountain, Colo., where the U.S. Ski Team is training to prepare for upcoming World Cup races in North America (Nov. 28-29 the men race in Lake Louise, Alberta, while the women race in Aspen, Colo., then the women move to Lake Louise Dec. 4-6 while the men race at Beaver Creek).
"I want to show our sport and show who we are as individuals. It's something we don't really have the opportunity to do, especially outside of the ski world," Ligety said. "I mean, this is going out to the masses, to people who aren't exposed to our sport. I wouldn't say our lifestyle is super glamorous … we're changing hotels every three days and living out of duffel bags."
Maybe it's not glamorous, but there's a lot of heart in it, and it's interesting. The story of what it takes to be a ski racer is what Truth in Motion, award-winning director Brett Morgen is aiming for.
"There's nothing glamorous about getting up at 5:30 and getting your blood taken," said Morgen, who has been nominated for an Oscar and regularly directs commercials for Budweiser, Walmart and other mega brands/companies. "To have to get up on the glacier and ski for six hours then come back, have lunch and then go do dry land … it's really gritty. But it's real. It's authentic."
This is a lifestyle that is totally foreign to most Americans. But not for long. Following its debut on NBC Jan. 30, Truth in Motion will air on USA and on the Universal Sports Network.
"A lot of marketers just put their logo on a jacket and call it a day," pointed out Audi's Jeff Kuhlman. "For us, we like to get very active and see behind the scenes of the skiers … what they do on a daily basis. We want to tell this story."
by Shauna Farnell