Austria wins team ski jump, as expected
Tweet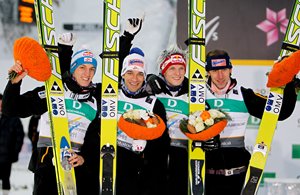 Austria had not lost a World Championship team ski jumping event since 2003 and they weren't about to stop that streak at Oslo.
Though Norway gave strong chase, the Austrians, anchored by Thomas Morgenstern, came away 1025.5-1000.5 winners.
Germany got the bronze, but not without giving fans a reason for pause as its final jumper Severin Freund fell after landing a strong jump.
Morgenstern teamed with Gregor Schlierenzauer, Martin Koch and Andreas Kofler for the win.
Gepa image
Place
Oslo
(NOR)
Discipline
Team HS106
Date
27.02.2011
Category
World Ski Championships
Race codex
3088
Gender
M
TD Name
Kuusinen Eero (FIN)
| | | | | | | | | |
| --- | --- | --- | --- | --- | --- | --- | --- | --- |
| Rank | Bib | FIS Code | Name | Year | Nation | Jump 1 | Jump 2 | Points |
| 1 | | 74575 | AUSTRIA | | AUT | | | 1025.5 |
| 2 | | 74577 | NORWAY | | NOR | | | 1000.5 |
| 3 | | 74574 | GERMANY | | GER | | | 968.2 |
| 4 | | 74573 | POLAND | | POL | | | 953.0 |
| 5 | | 74572 | JAPAN | | JPN | | | 931.1 |
| 6 | | 74576 | SLOVENIA | | SLO | | | 924.2 |
| 7 | | 74578 | CZECH REPUBLIC | | CZE | | | 917.9 |
| 8 | | 74571 | FINLAND | | FIN | | | 900.5 |
| 9 | | 124067 | RUSSIAN FEDERATION | | RUS | | | 444.8 |
| 10 | | 75322 | SWITZERLAND | | SUI | | | 418.2 |
| 11 | | 75323 | ITALY | | ITA | | | 417.8 |
| 12 | | 74737 | KAZAKHSTAN | | KAZ | | | 366.2 |
Comments
comments