Big Air event headed to downtown Denver
Tweet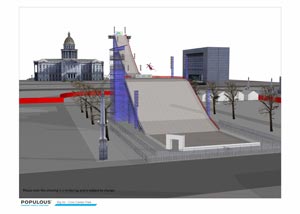 Top skiers and snowboarders will be soaring into the nighttime sky in downtown Denver this January off one of the biggest man-made ramps ever constructed. The Metro Denver Sports Commission, Mayor John Hickenlooper and officials from the U. S. Ski and Snowboard Association (USSA) announced yesterday (Oct. 4) that Denver Big Air presented by Sprint will come to Civic Center Park on January 25 and 26, 2011.
Denver Big Air presented by Sprint, a two-day international ski and snowboarding event, will kick off the SnowSports Industries America (SIA) Snow Show. The event opens with the Nature Valley Big Air Challenge, a skiing big air event on Tuesday, Jan. 25 featuring some of the best male skiers in the country. Day two, Wednesday, Jan. 26, action will feature the International Ski Federation's (FIS) LG FIS World Cup Snowboard Big Air, a sanctioned event on the established global snowboarding circuit with an international roster of the top male snowboarders from around the world.
The event will be broadcast nationally on NBC and Versus.
The LG FIS World Cup Snowboard Big Air has been held in Moscow, Barcelona, Quebec, Seoul and London and is making its first stop in the United States. The FIS' selection of Denver as the first U.S. host city fits in its strategy of iconic locations for its signature ramp. The ramp is a combination of the steel truss and scaffolding that will be 101 feet high, 300 feet long and 80 feet wide.
To complement the snowboarding action, the USSA will add the Nature Valley Big Air Challenge, a big air ski event, to the mix to kickoff a two-night stand on Tuesday, Jan. 25. Denver's own Bobby Brown, the reigning X Games big air champion, was on hand for the announcement.
"This is a very unique opportunity for the USSA to bring two of our key sports to the heart of a great American city like Denver," said USSA President and CEO Bill Marolt. "Denver is the right market for a lot of reasons. It gives us the opportunity to showcase to a winter-committed community and to the entire snowsports industry with the SIA Snow Show and to provide an opportunity for our partners Sprint and Nature Valley."
The event will also be the cornerstone of the Mile High Snowfest, a week of winter-themed activities centered around the SIA Snow Show, one of the biggest industry trade shows in the world. The SIA Snow Show brings nearly $30 million dollars and 20,000 visitors to the city and is in Denver through 2020. The Snow Show has the largest, most concentrated and authentic trade event in the snow sports industry.
Comments
comments