Bjoergen gets 2nd gold of championships in 15k pursuit
Tweet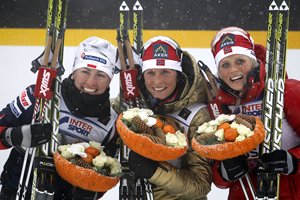 Marit Bjoergen claimed her sixth gold medal and second of the 2011 World Championships Saturday (Feb. 26) with a powerhouse showing in the women's 15k pursuit.
Bjoergen, Norwegian teammate Therese Johaug and Poland's three time World Cup winner Justyna Kowalczyk broke ahead of the pack about five kilomteres into the race and never looked back.
Bjoergen steamed ahead for the gold, Kowalczyk won silver 7.5 seconds back and Johaug took the bronze 8.8 seconds out.
Fog was again the biggest deterrent to the day, shrouding the finish stadium that spectators could barely see the racers at all, making picking out individuals nearly impossible.
The U.S. skiers finished in a bunch with three making the top 30, results that pleased coach Chris Grover. Elizabeth Stephen was 24th, Holly Brooks 25th and Jessica Diggins 28th.
Place
Oslo
(NOR)
Discipline
15 km M Pursuit
Date
26.02.2011
Category
World Ski Championships
Race codex
2118
Gender
L
Valid for FIS Points
NO – Waiting reports
TD Name
Pekk Tiit (EST)
Rank
Bib
FIS Code
Name
Year
Nation
Time
FIS Points
1
2
1303777
BJOERGEN Marit
1980
NOR
38:08.6
0.00
2
1
3435001
KOWALCZYK Justyna
1983
POL
38:16.1
4.59
3
4
3425301
JOHAUG Therese
1988
NOR
38:17.4
5.38
4
5
3505217
KALLA Charlotte
1987
SWE
39:02.5
32.97
5
3
1222200
LONGA Marianna
1979
ITA
39:17.0
41.84
6
17
3505003
RYDQVIST Maria
1983
SWE
39:17.4
42.09
7
18
1373617
FESSEL Nicole
1983
GER
39:17.4
42.09
8
7
1255665
SAARINEN Aino- Kaisa
1979
FIN
39:19.9
43.62
9
15
3425003
STEIRA Kristin Stoermer
1981
NOR
39:24.6
46.49
10
9
3505183
HAAG Anna
1986
SWE
39:46.8
60.07
11
16
1274580
ISHIDA Masako
1980
JPN
40:02.9
69.92
12
12
3485195
TCHEKALEVA Yulia
1984
RUS
40:05.5
71.51
13
22
1256732
SACHENBACHER -STEHLE Evi
1980
GER
40:05.8
71.69
14
8
1255374
ROPONEN Riitta-Liisa
1978
FIN
40:06.9
72.37
15
11
3425349
KRISTOFFERSEN Marthe
1989
NOR
40:07.7
72.86
16
13
1247226
ZELLER Katrin
1979
GER
40:11.0
74.88
17
14
1142563
SHEVCHENKO Valentina
1975
UKR
40:37.9
91.33
18
20
3185004
SARASOJA Riikka
1982
FIN
40:50.7
99.16
19
6
1138877
FOLLIS Arianna
1977
ITA
40:51.3
99.53
20
27
3565014
JEZERSEK Barbara
1986
SLO
40:57.1
103.08
21
19
3705003
PROCHAZKOVA Alena
1984
SVK
40:58.7
104.05
22
31
3155008
JANECKOVA Ivana
1984
CZE
41:03.0
106.69
23
29
1319976
KOLOMINA Elena
1981
KAZ
41:03.3
106.87
24
37
3535261
STEPHEN Elizabeth
1987
USA
41:03.5
106.99
25
32
3535142
BROOKS Holly
1982
USA
41:21.5
118.00
26
23
3485013
NOVIKOVA Valentina
1984
RUS
41:22.7
118.74
27
26
3485198
IVANOVA Julia
1985
RUS
41:25.9
120.69
28
42
3535410
DIGGINS Jessica
1991
USA
41:33.8
125.53
29
50
1181848
YATSKAYA Oxana
1978
KAZ
41:35.2
126.38
30
35
3505069
LINDBORG Sara
1983
SWE
41:35.3
126.44
31
10
3185256
LAHTEENMAKI Krista
1990
FIN
41:50.7
135.86
32
40
3435031
MACIUSZEK Paulina
1985
POL
41:51.2
136.17
33
28
3695011
GRYGORENKO Kateryna
1985
UKR
41:54.9
138.43
34
33
3155041
NYVLTOVA Eva
1986
CZE
42:00.0
141.55
35
30
3295088
DE MARTIN TOPRANIN Virginia
1987
ITA
42:01.9
142.72
36
25
1182042
MALAKHOVA-SHISHKINA Svetlana
1977
KAZ
42:02.4
143.02
37
49
1194555
NESTERENKO Lada
1976
UKR
42:06.6
145.59
38
21
3195059
BARTHELEMY Laure
1988
FRA
42:33.3
161.92
39
34
3195056
JEAN Aurore
1985
FRA
42:33.9
162.29
40
24
1293107
BOEHLER Stefanie
1981
GER
42:38.9
165.35
41
48
3395035
ROHTLA Laura
1985
EST
42:52.8
173.85
42
44
3305134
KOBAYASHI Yuki
1987
JPN
43:08.1
183.21
43
41
3535270
ARRITOLA Morgan
1986
USA
43:09.5
184.07
44
36
3485291
BOCHKAREVA Svetlana
1984
RUS
43:16.7
188.47
45
43
3495008
ORGUE Laura
1986
SPA
43:39.9
202.67
46
46
1354799
GYORGY Monika
1982
ROU
43:40.0
202.73
47
47
1258769
LEE Chae-Won
1981
KOR
43:41.2
203.46
48
38
3195126
BOURGEOIS Celia
1983
FRA
44:02.3
216.37
49
52
3675018
MATROSSOVA Marina
1990
KAZ
44:02.6
216.55
50
45
3695016
ANTSYBOR Maryna
1987
UKR
45:00.3
251.85
51
39
1341316
GOSLING Brooke
1980
CAN
45:08.6
256.93
52
54
1365178
BOTTOMLEY Esther
1983
AUS
46:22.8
302.32
53
53
3225005
MUSGRAVE Rosamund
1986
GBR
48:01.6
362.75
Lapped
56
3775007
KHODIAKOVA Irina
1990
KGZ
55
3085003
PICIN Mirlene
1980
BRA
Did not start
51
3435004
SZYMANCZAK Agnieszka
1984
POL
Comments
comments