Brown, Rolland take freeski wins at Vermont Dew Tour stop
Tweet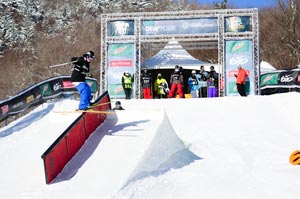 The Winter Dew Tour made its second of three stops in Killington, Vermont this weekend as Frenchman Kevin Rolland secured the superpipe victory on Saturday and American Bobby Brown took home the slopestyle win Sunday.
It was Rolland's first Dew Tour victory after landing on the podium several times. The win boosted Rolland (third place at the tour's first stop in Breckenridge, Colo.) into a tie at the top of the Dew Cup standings with Simon Dumont, who finished third this weekend. Gus Kenworthy rounded out the podium in second.
After taking a fall on his first run, Rolland came out strong in round two by throwing a double flair mute grab, alley oop flatspin, switch 7, double flair and a double cork 12 to jump him from 11th to first place with a score of 92.50. Kenworthy (19) of Telluride, Colo., scored 87.75 points, giving him his first-ever podium finish in his first-ever Winter Dew Tour final. Dumont, winner in Breckenridge, followed with 86.75 points.
"I was so scared at the top of the pipe because I crashed on my first run, but my second run was cool so it makes me feel confident for the next contest," said Rolland. "I'm so good in my mind now. It's just incredible for me. Now my goal is to win the Dew Cup, and I have to try my best to get it."
Dumont and Rolland, each with a first and third place finish under their belts this season, head into the Toyota Championship tied for first ensuring a tight battle for the Dew Cup at Snowbasin Resort in Ogden, Utah.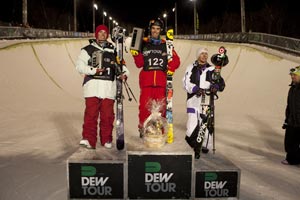 Sunday's freeski slopestyle contest saw Brown (second place at the first tour stop) step up to the top of the podium. The last rider to drop in, 19-year-old Brown wowed the crowd with his final run of the competition and secure the top of the leader board in the overall Winter Dew Tour rankings heading into the final stop.

"The course was money. The weather is amazing her in Killington," said Brown. "Big jumps, sick rail features, all around dope course. I'm really stoked for Snowbasin, and would love to end the season with a Dew Cup."

After he too took a fall on his first run, Brown went for it on the second and earned a top score of 93.75 after throwing out a frontside switch up, switch 270 on to backside switch up to 270 out, switch on to 630 out, switch double rodeo 9 Japan, left double cork 12 and a switch right double cork 9. Switzerland's Elias Ambuhl (18) placed second with 91.75-point score, making him second overall in Tour rankings. Nick Goepper (16) from Lawrenceburg, Ind., rounded out the podium in third with an 88.25.

The tour will conclude with the handing out of tour titles (the Dew Cup) at Snowbasin Resort Feb. 10-13.
Excitement surrounding the possible inclusion of the two sports in the 2014 Winter Olympic schedule has been building as athletes prepare to compete in the 2011 FIS World Championships in Deer Valley Utah Feb. 2-5.
The U.S. World Championship team for slopestyle skiing will be named in just over a week on Jan. 31, following the Winter X Games in Aspen Colo.
For complete results click here.
Images by Alli Sports
Comments
comments