In The Bumps: Q&A with moguls skier Hannah Kearney
Tweet
U.S. moguls skier Hannah Kearney is going into the 2010 season riding high. Last season the Norwich, Vt. native claimed her first career World Cup title and her second World Championship medal. Her record-breaking season got off to a blistering start as she finished in the top four of the first seven World Cup contests of the season, grabbing three wins and six podiums along the way. Kearney is now aiming to stay on the consistency train and plow into Vancouver at full steam. Ski Racing caught up with the eight-year U.S. Ski Team veteran to talk globes, goals and gold.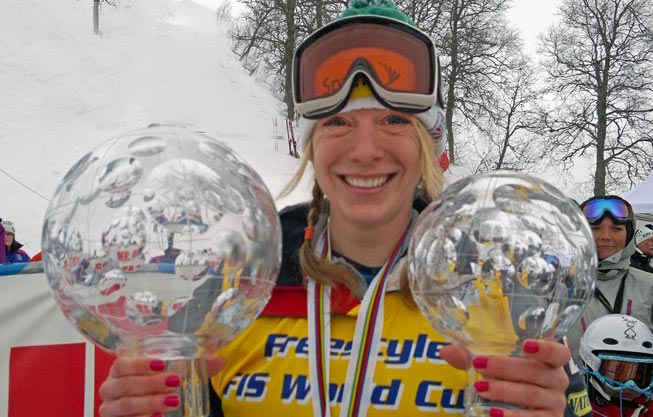 SR: Last year you won your first overall World Cup title after finishing 24 the previous season. How were you able to make such a big improvement? How did it feel to grab that globe?
Kearney: In 2007 I tore my ACL after only three World Cups, and the following year I got a concussion after two. As a result of the forced rest from the injuries, I returned this season, refreshed and especially grateful to be skiing. Winning a globe has been a goal of mine since I first began skiing on the World Cup circuit, so it was very satisfying to finally hold my own. And, surprisingly heavy!

SR: Tell us about your summer and fall. Where did you train? How did you relax?

Kearney: I relocated to Lake Placid, NY to the Olympic Training Center from May through September to utilize the water ramp facility and work with one of my coaches from Waterville Valley, Wes Preston. I did exactly 1,000 jumps into the pool between U.S. Team on-snow training camps in Chile and Switzerland. I spent free time with my dog Lola on the countless trails of the Adirondack Mountains. I also watched the Red Sox whenever I had a chance.


SR: You started last season with five consecutive World Cup podiums including two wins. How did you maintain that kind of consistency? Did you ever get superstitious?

Kearney: There are a lot of factors that contribute to consistent results. Confidence, practice, maturity, and luck all play a roll. I tried the whole superstitious thing when I was about 14 years old and it was inconvenient and exhausting. I find it easy to get into competition-day routines when I have a string of good results, but I make a point not to let anything become a superstition. This year I even competed without my hair in braids for the first time in my World Cup career.
SR: You passed on attending the opening ceremonies at the Torino Games. Will you do the same in Vancouver?
Kearney: I passed on the opening ceremonies because they were three hours away from our hotel, the night before women's moguls. I would not pass on the opportunity to walk in the opening ceremonies in Vancouver should I get the chance. That celebration represents everything the games are about and I would like to experience the feeling of Team USA and witness the festivities.

SR: What are you most looking forward to in Vancouver?
Kearney: Making it there first of all. Competing. The opening ceremonies. Watching figure skating. The list goes on.


SR: Is there any change to your approach to the World Cup competitions leading up to the Olympics? Will you be taking any competitions off?
Kearney: I believe that competitions are the best way to train for future competitions, whether it is Nationals or the Olympics, so I would not choose to skip any World Cups. Plus, I would like to be in the hunt for another globe.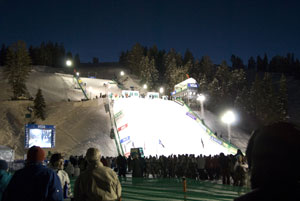 SR: The average American only sees moguls skiing once every four years (during the Olympics), what do you think the sport could do to change this?

Kearney: Unfortunately, I don't think there is much we can do to force millions of people who have never seen snow to be interested in the sport of skiing. We compete in another event, dual moguls, that gets even less attention. It would help promote our sport if we could find a venue such as the X-Games to accept that exciting part of mogul skiing. The response from people who have watched the annual night World Cup at Deer Valley has been positive. It would help our sport to hold competitions in places that allow the easiest spectator access possible.

Image: Top: USSA
Comments
comments