Caldwell named FIS freestyle rookie of the year
Tweet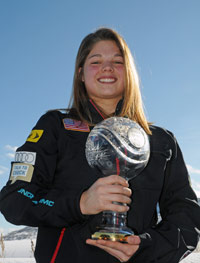 Lake Placid's high-flying 16-year-old Ashley Caldwell is having quite a year. Last week the aerialist was named International Ski Federation (FIS) Freestyle Rookie of the Year, only a week after becoming a member of the U.S. 2010 Olympic Team headed to Vancouver.
Caldwell, who competed in her first three World Cup competitions this season, finished in the top 15 every one. The impressive accomplishment caught the eye of a jury of international coaches who awarded Caldwell the honor above all other freestyle World Cup first-timers this season.
"I was happy when I found out. It was another thing to add to my list of accomplishments this year, so it's awesome," said Caldwell who was asked to join the U.S. Ski Team after only two years in the Elite Air Program, which focuses on converting talented gymnasts into ski aerialists.
Caldwell made her way into World Cup competition after winning the U.S. Selections event this season
"I worked really hard over the summer and, being 16, I didn't really have expectations for the results during the World Cup tour," said Caldwell. "I'm really excited to have done well and happy to be named rookie of the year."
"I hear I get a trophy but I haven't seen it yet. It's supposed to be pretty big, I'm excited to see it, it's my first real trophy," said Caldwell. "I'll probably keep it in my room in Lake Placid."
Look for Caldwell, the youngest American Olympian, in the women's aerials Feb. 20.
Image courtesy USSA
Comments
comments