Caldwell Scores Second Aerials World Cup Podium
Tweet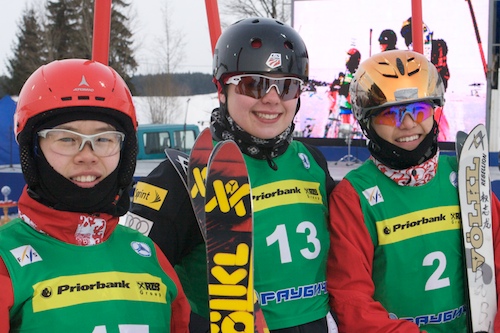 MINSK, Belarus (Feb. 19) – Last season's FIS Freestyle Rookie of the Year Ashley Caldwell (Charleston, SC) rebounded from her injury last week to finish second in the aerials World Cup Saturday in Minsk. It was the second podium of her young career.
Hometown hero Anton Kushnir of Belarus won the men's event, with China's World Champion Shuang Cheng the women's winner. It was an especially important victory for Kushnir, the World Championship bronze medalist, taking the first World Cup ever in his country of Belarus at an amazing new aerials facility near Minsk.
Caldwell, who did not compete last week in Moscow, Russia after a crash in training, came back strong for the final event of the season. She threw a full-full, followed by a full double full-full in the finals to score her second career World Cup podium having earned her first with a win in Lake Placid. Her jumps were clean and performed with technical precision, but her degree of difficulty was just below that of Cheng, allowing the Chinese aerialist to edge Caldwell for the win.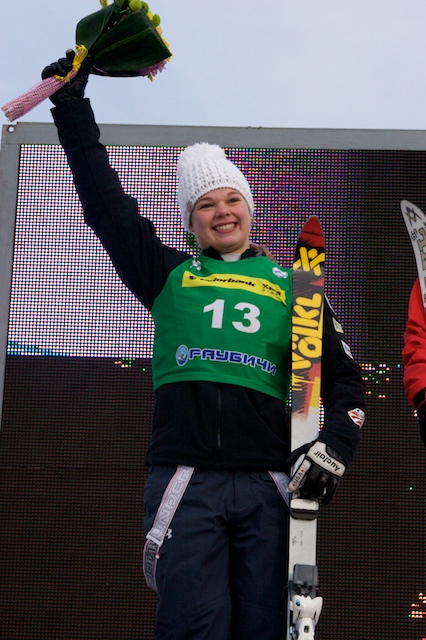 "Ashley was excited and she jumped great," said U.S. Head Aerials Coach Todd Ossian. "This is a really great way to end the season and a great bounce back from Moscow."
"This week was alot better than last week," said Caldwell. "I didn't end up competing, so I'm really happy to come back strong."
Emily Cook (Belmont, MA), coming off her second career World Cup victory in Moscow, jumped well in training. But in her qualification run she came off the jump a little bit forward, losing points and failing to make finals by one spot.
"It's pretty unlike Emily to do that [miss a takeoff], but she is a great sport," said Ossian about the veteran Cook. "She knows she had a very good season and has a lot to be proud of."
Dylan Ferguson (Amesbury, MA) ended 11th after a tough landing to a very clean final jump. Ferguson jumped well, but with slower takeoff speeds was unable to get the amplitude needed and he was forced to drag his hands on the landing. He was the only American man to qualify for Saturday's finals. Scotty Bahrke (Tahoe City, CA) was 24th.
"Our results were pretty spectacular this season. We are a pretty young team and we have a lot to build on this summer," said Ossian of the 2010-11 World Cup season. "We are all really motivated to train hard this summer."
Saturday's competition was the final World Cup aerials event of the season. Cook led the U.S. in the final standings in fifth with Caldwell eighth. Cheng topped the women's standings while fellow countryman Guangpu Qi won the men's.
The freestyle World Cup circuit resumes Feb. 26 in Marianske Lazne, Czech Republic for dual moguls.
OFFICIAL RESULTS
World Cup
Minsk, Belarus – Feb. 19, 2011
Aerials
Men
1. Anton Kushnir, Belarus, 256.31
2. Stanislav Kravchuk, Ukraine, 244.49
3. Denis Osipau, Belarus, 237.42
-
11. Dylan Ferguson, Amesbury, MA, 193.57
24. Scotty Bahrke, Tahoe City, CA, 82.08
Women
1. Shuang Cheng, China, 187.87
2. Ashley Caldwell, Charleston, SC, 183.96
3. Fanyu Kong, China, 178.28
-
13. Emily Cook, Belmont, MA, 72.96
Comments
comments