Canada claims gold medal in team sprint
Tweet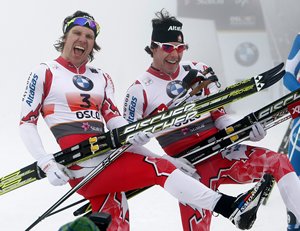 Oh, Canada, what have you done?
The Canadian men upset the hosting Norwegians for the gold medal today (March 2) at the World Ski Championships in Oslo in the team cross country sprint.
The team of Devon Kershaw and Alex Harvey edged the heavily favored Norwegians Petter Northug and Ola Vigen Hattestad for the gold, with Harvey out-sprinting Hattestad through the customary fog to the finish. It marked the first ever Nordic world title for Canada. Russia got the bronze powering past Finland in the final lap.
Harvey said, "We're really, really happy the way the race unfold for us… we both were in really good shape our skis were running good."
And while it was Harvey who was left to out-sprint the Norwegian to the finish, it was Kershaw who put him into position to make the final charge. Kerhsaw explained what happened in his final leg: "Sami (Jauhojaervi of Finland) was so, so strong," said Kershaw. "He just jumped me and I didn't react fast enough. I tried to get back on him, but just as I realized that he had gained perhaps a little too much, right then Petter Northug (of Norway) attacked me, and I just slid right into his slip stream, and followed him through the exchange because I knew… he was going to work so, so hard to catch the Finnish guy, Jauhojaervi, up front. I thought it was the perfect position to put Alex, because he was right behind Ola Hattedstad. Hattestad did all the work and Alex had that monster finish and now we're World Champs, so it's awesome."
Sweden took an all Scandinavia women's team gold a little more than three seconds ahead of Finland with hosting Norway – minus triple gold medalist Marit Bjoergen – picking up the bronze. Olympic 10-k champion Charlotte Kalla kicked into high gear at the start of the final lap and held off the Finnish squad of Aino Kaisa Saarinen and Krista Lahtennmaki.
Canada's Perianne Jones and Daria Gaiazova finished sixth and Sadie Bjornsen and Kikkan Randall of the U.S. ninth. The U.S. men's team – Torin Koos and Andy Newell – finished tenth.
Under the team sprint format each team member skied three times on a 1.3k (women) or 1.5k (men) course. The men's field included 26 teams from 13 nations and the women's field 16 teams.
Place
Oslo
(NOR)
Discipline
Team Sprint C
Date
02.03.2011
Category
World Ski Championships
Race codex
2123
Gender
M
Valid for FIS Points
NO – Waiting reports
TD Name
Pekk Tiit (EST)
Rank
Bib
FIS Code
Name
Year
Nation
Time
FIS Points
1
3
74607
CANADA
CAN
19:10.0
2
14
74599
NORWAY
NOR
19:10.2
3
15
74583
RUSSIA
RUS
19:10.5
4
7
74588
GERMANY
GER
19:10.9
5
5
74586
FINLAND
FIN
19:11.1
6
20
74587
KAZAKHSTAN
KAZ
19:21.5
7
1
74585
SWEDEN
SWE
19:22.0
8
19
74613
FRANCE
FRA
19:32.4
9
2
74589
ITALY
ITA
19:39.1
10
17
75805
UNITED STATES OF AMERICA
USA
20:01.6
11
16
74614
ESTONIA
EST
Semifinale
12
11
74729
SLOVAKIA
SVK
Semifinale
13
21
74601
CZECH REPUBLIC
CZE
Semifinale
14
9
74600
AUSTRIA
AUT
Semifinale
15
18
74595
JAPAN
JPN
Semifinale
16
4
74593
SWITZERLAND
SUI
Semifinale
17
22
74594
SLOVENIA
SLO
Semifinale
18
6
90966
POLAND
POL
Semifinale
19
24
112549
AUSTRALIA
AUS
Semifinale
20
13
171687
NEW ZEALAND
NZE
Semifinale
21
8
143961
LITHUANIA
LTU
Semifinale
22
23
144190
GREAT BRITAIN
GBR
Semifinale
23
10
74590
UKRAINE
UKR
Semifinale
24
25
91886
DENMARK
DAN
Semifinale
25
12
171686
VENEZUELA
VEN
Semifinale
Place
Oslo
(NOR)
Discipline
Team Sprint C
Date
02.03.2011
Category
World Ski Championships
Race codex
2122
Gender
L
Valid for FIS Points
NO – Waiting reports
TD Name
Pekk Tiit (EST)
Rank
Bib
FIS Code
Name
Year
Nation
Time
FIS Points
1
3
74585
SWEDEN
SWE
19:25.0
2
9
74586
FINLAND
FIN
19:28.3
3
2
74599
NORWAY
NOR
19:29.1
4
10
74589
ITALY
ITA
19:40.1
5
1
74594
SLOVENIA
SLO
19:43.5
6
5
74607
CANADA
CAN
20:11.9
7
11
74588
GERMANY
GER
20:12.8
8
4
74595
JAPAN
JPN
20:19.1
9
12
75805
UNITED STATES OF AMERICA
USA
20:21.5
10
13
74583
RUSSIA
RUS
20:23.3
11
14
74614
ESTONIA
EST
Semifinale
12
7
74601
CZECH REPUBLIC
CZE
Semifinale
13
6
74587
KAZAKHSTAN
KAZ
Semifinale
14
16
143961
LITHUANIA
LTU
Semifinale
15
8
74590
UKRAINE
UKR
Semifinale
16
15
144190
GREAT BRITAIN
GBR
Semifinale
Comments
comments