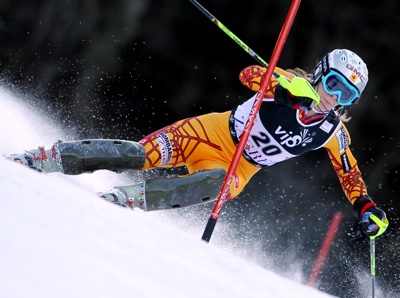 The Canadian team took yet another blow on Sunday when alpine tech specialist Anna Goodman crashed near the end of the the course in the women's Alpine World Cup slalom in Zagreb-Sljeme, Croatia.
Goodman, who will be 24 later this month, was about six gates from the finish in the first run when she caught a ski and fell hard on her right side. Her time until that point in the race would have put her in the top 10 going into the second run. She said that last year during the same race, she crashed at almost exactly the same part of the course and broke her thumb.
The diagnosis this time is torn right knee ligaments and the prognosis is six months of recovery. Goodman flies home to Canada on Tuesday. She is the sixth member of the Canadian Alpine Team to be sidelined this season.
Canada's John Kucera, Jean-Philippe Roy, Francois Bourque, Larisa Yurkiw, Kelly Vanderbeek and now Goodman – all Olympic hopefuls – will unfortunately miss the opportunity to compete in the Olympic Games in Whistler, B.C.
Goodman had just landed her first World Cup top 10, finishing ninth in the Are slalom on Dec. 13, and also had two solid finishes in Levi and Aspen this season, finishing 16th and 13th, respectively. She also won two back-to-back NorAm slaloms in Loveland, Colo., last month.
- Shauna Farnell
PHOTO: Anna Goodman puts down a fast run in the World Cup slalom in Zagreb, Croatia on Jan. 3 before crashing at the bottom of the course. (GEPA)