Canadian aerialist Omischl moves to coaching
Tweet
One of the world's most decorated skiers is hanging up his skis … for now.
Canadian aerialist Steve Omischl has had a remarkable career. He has earned four FIS crystal globes in aerials, two FIS freestyle overall championships, four World Championships medals, including a first place in 2005, and 40 FIS World Cup medals.
Notably missing from Omischl's arsenal is an Olympic medal. Despite competing in three Games, including the Vancouver Winter Olympics, Omischl has never reached his potential atop what is arguably the world's most prominent athletic stage.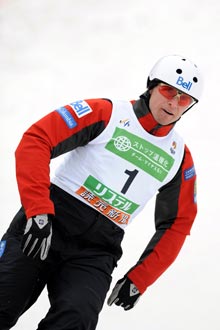 And while Omischl knows that his library of work should trump one best-seller, he is clearly haunted by his disappointing Olympic finishes (11th in Salt Lake City; 20th in Torino and 8th in Vancouver).
Nevertheless, at 31, the North Bay native has decided that his body is "done" and has admitted that a push for Sochi in 2014 is probably not in the cards.
"I want to have fun for the rest of my life," he said, adding that the pain of his performance in Vancouver is still fresh, but that it is tempered by his memories of his preparation for the Games.
"To see what I was capable of in the years coming up to the (Vancouver) Games – I know I'll never by any better than I was. February 2010 was absolutely the pinnacle of my career. In practice I jumped better than ever and even surprised myself," said Omischl, adding with a laugh, "It's kind of a sad prospect that it's all downhill from here!"
Steve Omischl (right) gives some tips to aspiring Whistler aerialist James Sambell
Steve Omischl (right) gives some tips to aspiring Whistler aerialist James Sambell
Omischl, who, at 31, has described himself as having the hips of a 10-year-old golden retriever, knows he needs a rest. But he's not quite ready to give up his sport, and has even admitted that in a couple of years he might make a comeback. But for now, he has jumped at the prospect of starting a Canadian Freestyle Ski Association development aerials program for young athletes in Whistler, B.C.
"I could be going to school," he explained, "I should be going to school." Instead, he'll be teaching.
"This sport has given me everything and it would be a shame for me to walk away. It would be selfish and dumb. It's time to help the next group of kids."
In some ways starting an aerials team in Whistler is a perfect storm. The valley is rife with athletic kids who are nonplussed by high-risk feats and double-black diamond ski runs. The local gymnastics club is strong and has just hired an ex-national team Aussie, Louise Stark, to start a competitive trampoline program. And, there is an excellent water ramp facility run by the CFSA, crucial for summer aerials training.
But Omischl knows, first hand that while opportunity may be enough to attract talented kids to aerials, it takes an enormous amount of dedication and discipline to turn them into world champions.
Aerials looks cool, but it takes years of practice and repetition to progress in the sport.
"The challenge at Whistler is that there are so many divergent opportunities. My job is to make aerials fun, cool and interesting enough to get them hooked."
Omischl said that his first objective is to teach his young apprentices that learning the fundamentals of aerials – good air sense and a natural ability to flip and twist – will take them further in wherever they go on snow, whether it is moguls, halfpipe, big mountain, big air or, hopefully for Omischl, aerials.
So far, six kids aged nine to 12 are signed up for Omischl's program. The National Team's loss is their gain. Who knows, maybe one of them will win him that elusive Olympic hardware.
Image by Gepa
Comments
comments