Canadians cap wildly successful World Champs with four medals in dual moguls
Tweet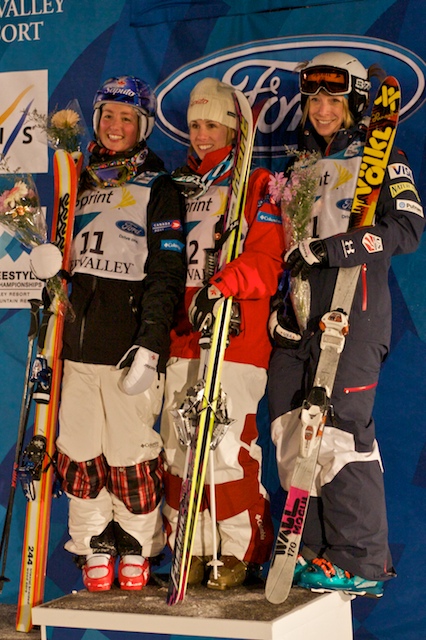 It's been a good week to be a Canadian freestyle skier.
Not far from home, Canadian moguls skiers tonight (Feb. 5) closed the 2011 FIS Freestyle World Championships in Deer Valley, Utah the same way they opened them on Wednesday night – with four skiers on the podium, in dual moguls this time.
Canadian Jennifer Heil, who has announced she will retire at season's end, grabbed her second gold medal of these championships and third career dual moguls World title tonight under the Deer Valley lights in front of thousands of cheering spectators.
"It feels amazing, I love this course. It's one of the most famous courses in the world, it's just a privilege to be in front of this amazing crowd and to ski on such a great course," said Heil who also won the single moguls event on Wednesday. "What can I say? I couldn't ask for more."
The women's final and small finals both came down to teammate battles as Chloe Duford-Lapointe succumbed to Heil to earned the silver medal and American Olympic champion Hannah Kearney beat Heather McPhie for the bronze medal.
"Today my goal was to ski my own runs and I did ski five solid competition runs. I should be pleased, but in fact I'm incredibly disappointed," Kearney said, who earned the single moguls silver medal earlier in the week. "I wasn't trying to achieve a bronze medal."
Canadians Audrey Robichaud and Kristi Richards (single moguls bronze medalist) finished fifth and sixth, respectively.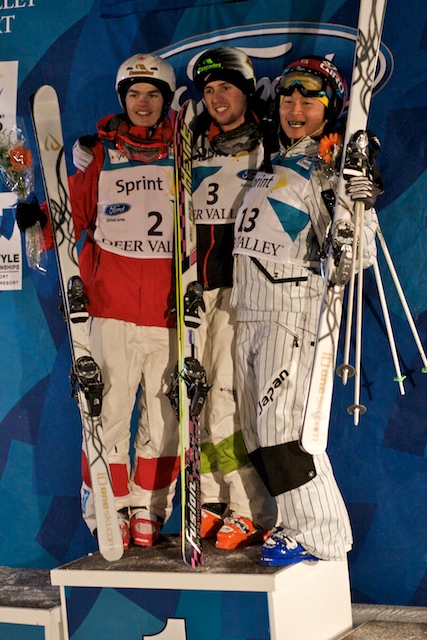 A pair of Canadians also topped the men's podium as Wednesday's single moguls silver medalist and Olympic champion Alexandre Bilodeau stepped up his second career duals World title. He outlasted 18-year-old teammate Mikael Kingsbury in the all-Canadian final. Kingsbury took the bronze medal in the singles competition.
"It feels great to win here," said Bilodeau. "It's super hard to defend your title when you have young guys like (Kingsbury) coming up. I'm working harder and harder to stay there, but the young guys like Mikael are pushing harder and harder too."
Japan's Nishi Nobuyuki bested singles champion Guilbaut Colas of France in the small final to secure the bronze medal.
Patrick Deneen, 2009 single moguls World Champion, led the American men in fifth place ahead of Jeremy Cota in ninth, Joe Doscoe in 13th and Sho Kashima in 18th.
Canada led all countries at these championships with 16 medals including eight gold. The U.S. followed with seven medals an one gold (Alex Schlopy, halfpipe).
NBC will air the World Championships dual moguls competition on Sunday, Feb. 6 at 3 p.m. MT.
Women's Results

| | | | | | | | | |
| --- | --- | --- | --- | --- | --- | --- | --- | --- |
| Rank | Bib | FIS Code | Name | Year | Nation | Result | Level | Points |
| 1 | 2 | 2275744 | HEIL Jennifer | 1983 | CAN | | | 1000.00 |
| 2 | 11 | 2484720 | DUFOUR-LAPOINTE Chloe | 1991 | CAN | | | 800.00 |
| 3 | 1 | 2328513 | KEARNEY Hannah | 1986 | USA | | | 600.00 |
| 4 | 6 | 2364117 | MCPHIE Heather | 1984 | USA | | | 500.00 |
| 5 | 3 | 2329677 | ROBICHAUD Audrey | 1988 | CAN | | | 450.00 |
| 6 | 4 | 2304360 | RICHARDS Kristi | 1981 | CAN | | | 400.00 |
| 7 | 9 | 2267596 | SUDOVA Nikola | 1982 | CZE | | | 360.00 |
| 8 | 8 | 2481681 | STOLYAROVA Ekaterina | 1988 | RUS | | | 320.00 |
| 9 | 7 | 2329386 | OUTTRIM Eliza | 1985 | USA | | | 290.00 |
| 10 | 10 | 2485019 | RAKHIMOVA Regina | 1985 | RUS | | | 260.00 |
| 11 | 12 | 2485027 | PERTAKHIYA Marika | 1992 | RUS | | | 240.00 |
| 12 | 34 | 2484416 | COX Britteny | 1994 | AUS | | | 220.00 |
| 13 | 21 | 2484830 | MURATA Arisa | 1990 | JPN | | | 200.00 |
| 14 | 25 | 2472175 | SNYDERMAN Kayla | 1988 | USA | | | 180.00 |
| 15 | 13 | 2526325 | GUNCHENKO Anastassia | 1991 | RUS | | | 160.00 |
| 16 | 14 | 2360722 | SCANZIO Deborah | 1986 | ITA | | | 150.00 |
| 17 | 23 | 2526184 | VACULIKOVA Tereza | 1992 | CZE | | | 140.00 |
| 18 | 22 | 2419989 | KAFFKA Marina | 1987 | GER | | | 130.00 |
| 19 | 29 | 2440553 | PARKS Nicole | 1992 | AUS | | | 120.00 |
| 20 | 33 | 2485108 | HOSHINO Junko | 1989 | JPN | | | 110.00 |
| 21 | 32 | 2485294 | KOYANDER Ellie | 1991 | GBR | | | 100.00 |
| 22 | 31 | 2527003 | SEO Jee-Won | 1994 | KOR | | | 90.00 |
| 23 | 28 | 2527012 | GOBBI Samanta | 1991 | SUI | | | 80.00 |
| 24 | 26 | 2373041 | SANTA-OLALLA Reyes | 1984 | SPA | | | 70.00 |
| 25 | 27 | 2529059 | YANG Xue | 1995 | CHN | | | 0.00 |
| 26 | 35 | 2529060 | SHAO Junhan | 1996 | CHN | | | 0.00 |
Men's Results

Rank
Bib
FIS Code
Name
Year
Nation
Result
Level
Points
1
3
2426100
BILODEAU Alexandre
1987
CAN
1000.00
2
2
2484937
KINGSBURY Mikael
1992
CAN
800.00
3
13
2397776
NISHI Nobuyuki
1985
JPN
600.00
4
1
2337049
COLAS Guilbaut
1983
FRA
500.00
5
4
2382838
DENEEN Patrick
1987
USA
450.00
6
18
2482554
VOLKOV Sergey
1987
RUS
400.00
7
17
2484682
KIRAMO Arttu
1990
FIN
360.00
8
34
2526132
MIETTUNEN Ville
1992
FIN
320.00
9
5
2484727
COTA Jeremy
1988
USA
290.00
10
6
2482457
SMYSHLYAEV Alexandr
1987
RUS
260.00
11
9
2484677
ROCHON Cedric
1990
CAN
240.00
12
11
2406797
BJOERNLUND Jesper
1985
SWE
220.00
13
15
2471011
DISCOE Joseph
1987
USA
200.00
14
32
2406506
SPETT Per
1985
SWE
180.00
15
14
2484952
GAGNON Marc-Antoine
1991
CAN
160.00
16
29
2407185
MATIZ Giacomo
1986
ITA
150.00
17
30
2527360
PENTTALA Jussi
1993
FIN
140.00
18
20
2417855
KASHIMA Sho
1986
USA
130.00
19
31
2318134
HALL Sam
1988
AUS
120.00
20
26
2407379
VACULIK Lukas
1986
CZE
110.00
21
35
2340929
NOVAK Vaclav
1987
CZE
100.00
22
25
2526312
ANDERSEN Tevje-Lie
1991
NOR
90.00
23
37
2354320
LAHTELA Juuso
1985
FIN
80.00
24
27
2526113
GRAHAM David
1991
AUS
70.00
25
38
2369743
LAFRANCHI Pablo
1986
SUI
60.00
26
43
2485295
LONGLEY Andrew
1990
GBR
50.00
27
28
2484758
SLATTEN Vinjar
1990
NOR
45.00
28
12
2484861
ENDO Sho
1990
JPN
40.00
29
7
2183982
ROUSSEAU Pierre-Alexandre
1979
CAN
36.00
30
41
2526980
STEPHENSON Bradley
1988
RSA
0.00
31
24
2485300
GUMMESSON Adam
1989
SWE
0.00
32
40
2529062
SUN Renze
1994
CHN
0.00
Did not finish
2525925
THORKILSEN Gustav-Muus
1981
DAN
2527908
KIM Ji-Hyon
1995
KOR
Comments
comments