Canadians Rule World Champs Ski Cross
Tweet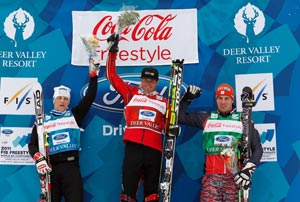 Canadian ski cross racers Kelsey Serwa and Chris Del Bosco proved to be snow warriors today (Feb. 4), battling through four rounds of tough competition to become World Champions at Deer Valley, Utah. Fellow Canadian Julia Murray also landed on the podium with the silver medal.
Day 3 of the FIS Freestyle World Championships saw a shift in weather as the sunny skies and cold temperatures of the previous two days was pushed out by cloud cover and warm temps.
Del Bosco, 2010 X Games gold medalist, made a huge pass in the middle of the course during the men's final, overtaking the Czech Republic's Tomas Kraus and hanging on for the win. Finn Jouni Pellinen took the silver medal ahead of current World Cup overall leader and defending World Champion, Austrian Andreas Matt with the bronze.
Del Bosco finally got the "big event" monkey off his back after finishing fourth at the Vancouver Games and the 2009 World Championships. "I was wondering about these big event, if I could get it done," said Del Bosco, a Vail, Colo. native who represents his father's home country of Canada. "It feels great."
It was Pellinen's first podium of any kind. "This is awesome. I've been qualifying really good this year but never made the big final," he said. "Today I pulled out my pride and showed these guys that I can make it, took home the medal and I'm so proud."
John Teller, 2011 X Games gold medalist and the lone American to qualify for this week's final, was eliminated in his semifinal round but dominated the small final to secure a fifth-place finish.
"I had some goals coming into this season. They were pretty high goals and I'd say I've achieved them," said Teller, who became the first American to win a World Cup last month.
"The course was good," said American Skicross Association's Casey Puckett, who came out of retirement last week to place third in ski cross at Winter X Games 15. "There was room to pass and Teller made a lot of passes today."
Tahoe, Calif. native and Jamaica representative, Errol Kerr was eliminated in his first round run.
Serwa, who finished fifth at both the Vancouver Games and the 2009 World Champs, backed up the X Games gold medal she won last weekend by winning all but one of her four heats today. Sweden's Anna Holmlund rounded out the podium with the bronze.
"I had two goals coming into this season, one was to win X Games and next was to win World Championships, so I'm pretty happy right now to achieve both those," said Serwa, who after a spectacular crash across the X Games finish line last weekend was only able to get out of bed two days ago."I've been working a lot with my physio and massage therapist for four hours a day just to get me moving normally. When we started racing the adrenaline was there and I could barley feel it."
"Today was definitely exciting for me just because I've been working through this knee thing all year and then I wrecks again last week at X Games," said Murray, who has battled knee problems over the last year."I'm just super psyched about being on the podium with Kelsy today."
Seven-time World Cup champion and four-time X Games gold medalist, France's Ophelie David was eliminated in a four-woman crash during her quarter final run.
Women's defending Worlds gold medalist, Canadian Olympic gold medalist Ashleigh McIvor was lost for the season when she injured her knee while training for last week's X Games.
No American women raced today.
Women's Results
Rank
Bib
FIS Code
Name
Year
Nation
Result
Level
Points
1
4
2527273
SERWA Kelsey
1989
CAN
1000.00
2
7
2526906
MURRAY Julia
1988
CAN
800.00
3
6
2527563
HOLMLUND Anna
1987
SWE
600.00
4
17
2526015
OFNER Katrin
1990
AUT
500.00
5
12
2485085
OWENS Jenny
1978
AUS
450.00
6
14
2526530
RIEMEN Karolina
1988
POL
400.00
7
1
2527434
ZACHER Heidi
1988
GER
360.00
8
2
2527513
HOEIE GJEFSEN Marte
1989
NOR
320.00
9
3
2526849
WOERNER Anna
1989
GER
290.00
10
5
2526373
SMITH Fanny
1992
SUI
260.00
11
8
2394866
DAVID Ophelie
1976
FRA
240.00
12
9
2527841
KUCEROVA Nikol
1989
CZE
220.00
13
10
2527287
POLESCHUK Danielle
1986
CAN
200.00
14
11
2526363
MUELLER Katrin
1989
SUI
180.00
15
13
2527689
THOMPSON Marielle
1992
CAN
160.00
16
15
2526527
JENSEN Julie Brendengen
1990
NOR
150.00
17
16
2323372
CREMA Katya
1988
AUS
140.00
18
18
2526328
KENNEDY Sami
1988
AUS
130.00
19
19
2484649
SARSFIELD Emily
1983
GBR
120.00
20
20
2525884
LIVINSKAYA Yulia
1990
RUS
110.00
21
21
2526819
SAUVEY Sarah
1983
GBR
100.00
22
22
2527349
UMEHARA Reina
1983
JPN
0.00
23
23
2527570
LIMBACHER Andrea
1989
AUT
0.00
Did not start
2324342
BERNTSEN Hedda
1976
NOR
Men's Results

Rank
Bib
FIS Code
Name
Year
Nation
Result
Level
Points
1
1
2526820
DELBOSCO Christopher
1982
CAN
1000.00
2
3
2527361
PELLINEN Jouni
1983
FIN
800.00
3
2
2451417
MATT Andreas
1982
AUT
600.00
4
5
2386524
KRAUS Tomas
1974
CZE
500.00
5
9
2527399
TELLER John
1983
USA
450.00
6
18
2448410
NETZER Conradign
1980
SUI
400.00
7
11
2447828
BARR Davey
1977
CAN
360.00
8
4
2527284
ZORICIC Nick
1983
CAN
320.00
9
10
2526291
NIEDERER Armin
1987
SUI
290.00
10
12
2527624
GASSER Patrick
1985
SUI
260.00
11
14
2527032
FLISAR Filip
1987
SLO
240.00
12
16
2526877
BOVOLENTA Arnaud
1988
FRA
220.00
13
20
2528672
DEVOUASSOUX Jonas
1989
FRA
200.00
14
22
2412714
SAFAR Zdenek
1978
CZE
180.00
15
24
2526137
FORSLUND Michael
1986
SWE
160.00
16
26
2525886
KOROTKOV Egor
1986
RUS
150.00
17
6
2527144
KNELLER Scott
1989
AUS
140.00
18
7
2527296
BOHNACKER Daniel
1990
GER
130.00
19
8
2526897
DUNCAN David
1982
CAN
120.00
20
13
2527042
ECKERT Paul
1990
GER
110.00
21
15
2526789
STICKL Simon
1987
GER
100.00
22
17
2411938
ZANGERL Thomas
1983
AUT
90.00
23
19
2450835
MIAILLIER Sylvain
1986
FRA
80.00
24
21
2528200
FISCHER Thomas
1986
GER
70.00
25
23
2526955
FIVA Alex
1986
SUI
60.00
26
25
2385263
KONO Kenji
1983
JPN
50.00
27
27
2526998
WAHRSTOETTER Christoph
1989
AUT
45.00
28
28
2527138
KERR Errol
1986
JAM
40.00
29
29
2527622
JUELL Didrik Bastian
1990
NOR
36.00
30
30
2527142
GRIMUS Anton
1990
AUS
32.00
31
31
2485016
DANILOV Artem
1986
RUS
28.00
32
32
2384681
WALDNER Klaus
1980
AUT
26.00
33
2527952
WHELAN Peter Edwin
1989
GBR
24.00
34
2527607
BORGE LIE Thomas
1985
NOR
22.00
35
2525885
BONDAR Alexandr
1988
RUS
20.00
36
2527846
ANIKIN Ivan
1988
RUS
19.70
37
2528136
DURAN Patrick
1985
USA
19.40
38
2526971
RICIOLI Trevor
1985
USA
19.10
39
2452096
FUKUI Godai
1983
JPN
18.80
40
2528292
FORTNEY Ethan
1990
USA
18.50
41
2529057
WHITFIELD Douglas
1975
NZE
18.20
42
2528919
RAVELO Cristhian
1992
COL
0.00
43
2527139
LUNN William
1982
IRE
0.00
44
2528786
MONTI Bruno
1990
BRA
0.00
45
2528371
KLING Olle
1991
SWE
0.00
Did not start
2528755
BLANCO Christian
1970
BRA
Comments
comments