Canadians stay hot in World Champs halfpipe; Hudak, Dumont medal
Tweet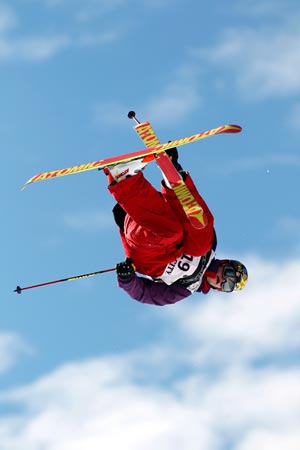 Canadian skiers have been on a roll (12 medals, half of which are gold) at the 2011 FIS Freestyle World Championships going on this week in Park City, Utah. Their hot streak continued in the halfpipe today (Feb. 5) as Canadian skiers claimed half of the medals including both golds.
Weather threw an additional challenge at competitors as cloud cover and snow-carrying winds blowing across the pipe made landing high flying tricks even more difficult.
Adding more pressure was the fact that IOC officials were on hand to evaluate the possibility of ski halfpipe being included in the 2014 Winter Olympic schedule.
Rosalind Groenewoud secured the women's win with a score of 44.7 in the best-of-two-run format. Joining Groenewoud on the podium was teammate Keltie Hansen with the bronze medal. Filling the gap was American Jen Hudak, who took the silver medal with a 42.1-point score, moving up from her third-place performance at the 2009 worlds.
"It feels awesome, I'm definitely a proud Canadian," said Groenewoud, who admitted today's conditions with blowing snow and the flat light made jumping out of the pipe a little scary. "I'm super happy to win today."
North Americans filled the women's top six as last week's X Games winner, Canadian Sarah Burke finished fourth ahead of U.S. skiers Devin Logan and Brita Sigourney in fifth and sixth, respectively.
"I came out here, I knew the conditions were going to be tough. I just put my blinders on and focused on what I had to do," said Hudak, who caught an edge during her first run but bounced back to take the second-best score with her second run. "I feel like there are things I could have done in my skiing that would have improved my score and my run. I missed a lot of grabs which is one of the strong points of my run usually. It was a lot of pressure as the last skier, I managed to mostly do it and I'm definitely happy with performing under the pressure."
With a crafty pair of switch nines, Micheal Riddle took the men's gold with a top score of 45.6 ahead of Frenchman Kevin Rolland, who was only four tenths of a point off the mark in second. Rolland is red hot right now, having won at the latest Dew Tour stop and last weekend's X Games, he was also the defending 2009 World Champion.
"The weather was definitely a challenge, we knew that right when we arrived in training," said Riddle, who earned a victory lap after sealing the gold with his first run. "It's a very exciting time for our sport with the push for the Olympics, I'd like to think we put on a pretty good show today. I hope the IOC was watching and looking at the potential we have to put on a good show."
American Simon Dumont earned the bronze medal to match his result at this year's X Games.
"The biggest thing about today was obviously the Olympic push," said Dumont, who faced particularly strong winds."If this were any other event, I probably would have pulled out. But our big goal is to end up in the Olympics. Hopefully we proved that we are here, we're serious and we are going to ski in a hurricane and put on a good show."
U.S. piper David Wise just missed the podium by two tenths of a point in fourth place.
The Freestyle World Championships conclude tonight with men's and women's dual moguls competitions at Deer Valley.
Image by Gepa
Women's Results

Rank
Bib
FIS Code
Name
Year
Nation
Result
Level
Points
1
1
2485240
GROENEWOUD Rosalind
1989
CAN
44.7
1000.00
2
10
2382062
HUDAK Jennifer
1986
USA
42.1
800.00
3
12
2526959
HANSEN Keltie
1992
CAN
38.8
600.00
4
18
2484584
BURKE Sarah
1982
CAN
38.3
500.00
5
11
2527818
LOGAN Devin
1993
USA
35.8
450.00
6
9
2484708
SIGOURNEY Brita
1990
USA
35.1
400.00
7
20
2469362
JAEGER Mirjam
1982
SUI
34.2
360.00
8
3
2485261
AERTS Katrien
1976
BEL
30.8
320.00
9
19
2526151
MATSUURA Emi
1986
JPN
30.2
290.00
10
17
2485115
MITSUBOSHI Manami
1984
JPN
29.5
260.00
11
21
2484352
LONSDALE Emma
1984
GBR
28.7
240.00
12
15
2485289
CARADEUX Anais
1990
FRA
220.00
13
4
2529125
SJAASTAD CHRISTIANSEN Tiril
1995
NOR
27.8
200.00
14
24
2529086
SUMMERHAYES Katie
1995
GBR
26.0
180.00
15
14
2485256
CUMMING Jessica
1983
USA
24.0
160.00
16
7
2527483
BAUER Daniela
1986
AUT
22.1
150.00
17
23
2529128
RUSTEN ANDERSEN Nina
1988
NOR
20.4
140.00
18
5
2526380
GRIFFITHS Katia
1980
SPA
19.8
130.00
19
25
2528740
BATTERSBY Rose
1993
NZE
3.7
0.00
Did not start
2373041
SANTA-OLALLA Reyes
1984
SPA
2449865
FAIVRE Virginie
1982
SUI
2529131
ELIASSEN Grete
1986
NOR
Men's Results

Rank
Bib
FIS Code
Name
Year
Nation
Result
Level
Points
1
19
2484398
RIDDLE Micheal
1986
CAN
45.6
1000.00
2
12
2414363
ROLLAND Kevin
1989
FRA
45.2
800.00
3
20
2484571
DUMONT Simon
1986
USA
43.2
600.00
4
9
2484582
WISE David
1990
USA
43.0
500.00
5
22
2526841
WELLS Byron
1992
NZE
42.8
450.00
6
1
2424257
BERTONI Xavier
1988
FRA
41.2
400.00
7
17
2526277
PERKINS Tucker
1991
USA
36.0
360.00
8
2
2526511
VALENTIN Benoit
1992
FRA
34.8
320.00
9
25
2525940
WELLS Josiah
1990
NZE
34.6
290.00
10
3
2450156
LAUPER Nils
1982
SUI
33.3
260.00
11
13
2526779
BOWMAN Noah
1992
CAN
32.1
240.00
12
15
2525951
DOREY Justin
1988
CAN
30.5
220.00
13
42
2528389
YATER-WALLACE Torin
1995
USA
33.9
200.00
14
27
2525958
MARGETTS Matthew
1988
CAN
33.3
180.00
15
10
2529122
LINDSTAD Jon Anders
1994
NOR
31.1
160.00
16
18
2528796
MAHLER Kai
1995
SUI
31.0
150.00
17
43
2529130
DOLPLADS Thomas
1989
NOR
30.9
140.00
18
26
2526214
MACHON James
1990
GBR
30.0
130.00
19
36
2526922
WOODS James
1992
GBR
30.0
120.00
20
35
2526227
BUCHAN Murray
1991
GBR
26.5
110.00
21
31
2527586
RATY Matti
1988
FIN
26.3
100.00
22
16
2527589
ELSHOUT Nicolas
1987
BEL
26.0
90.00
23
28
2528946
CROOK Peter
1993
IVB
25.5
80.00
24
37
2528807
JOHNSON Matt
1990
NZE
21.4
70.00
25
29
2526722
CHRISTEN Marc
1992
LIE
21.1
60.00
26
30
2485218
TSUDA Kentaro
1983
JPN
20.2
50.00
27
24
2424548
KRIEF Thomas
1993
FRA
15.6
45.00
28
33
2527337
SONEHARA Isao
1984
JPN
13.2
0.00
29
23
2528635
KIM Kwang-Jin
1995
KOR
9.7
0.00
Did not start
2527732
FINNE Klaus
1990
NOR
2528741
BEAZLEY Raphael
1995
NZE
2527405
JORDAN DAVID Scott
1993
AND
2485264
KEMPPAINEN Antti-Jussi
1989
FIN
Comments
comments