Chappuis claims combined gold, US skiers 5th and 6th
Tweet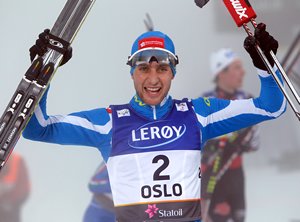 The Americans gave it a hard chase, but in the end were unable to overcome relatively poor jumping performances as Frenchman Jason Lamy Chappuis claimed the large hill Nordic Combined World Championship in Oslo, Norway Wednesday (March 2).
Second after the jumping leg, Chappuis quickly moved past jump leader Haavard Klemetsen of Norway in the 10k pursuit race then out legged silver medalist Johannes Rydzek and bronze medalist Eric Frenzel, both of Germany for the gold. Frenzel completed his cycle of medals by adding the bronze to a gold won on the normal hill and silver in the team event.
For Chappuis the gold marked a completed cycle as well, as a world championship was the last major crown he needed for a complete resume. He won the Olympic normal hill gold and the World Cup title last season.
The Americans showed the strength they have become known for but couldn't quite overcome the jump leads of the top group. Todd Lodwick finished fifth and Bill Demong, the defending champion, finished sixth.
Place
Oslo
(NOR)
Discipline
Gundersen LH HS134/10.0 K
Date
02.03.2011
Category
World Ski Championships
Race codex
4030
Gender
M
TD Name
Heilig John R. (CAN)
Rank
Bib
FIS Code
Name
Year
Nation
Result
1
2
610
LAMY CHAPPUIS Jason
1986
FRA
25:31.6
2
5
590
RYDZEK Johannes
1991
GER
25:38.3
3
6
1050
FRENZEL Eric
1988
GER
25:38.6
4
1
419
KLEMETSEN Haavard
1979
NOR
26:09.2
5
12
27
LODWICK Todd
1976
USA
26:10.4
6
20
222
DEMONG Bill
1980
USA
26:20.9
7
11
416
SLAVIK Tomas
1981
CZE
26:23.5
8
16
1464
RUNGGALDIER Lukas
1987
ITA
26:30.8
9
7
606
BRAUD Francois
1986
FRA
26:34.3
10
10
8
STECHER Mario
1977
AUT
26:39.9
11
23
1149
KOKSLIEN Mikko
1985
NOR
26:44.5
12
27
137
KREINER David
1981
AUT
26:46.2
13
15
1136
WATABE Akito
1988
JPN
26:50.4
14
17
1650
SCHMID Jan
1983
NOR
26:59.6
15
8
351
EDELMANN Tino
1985
GER
27:08.3
16
30
19
MANNINEN Hannu
1978
FIN
27:08.5
17
14
1152
RYYNAENEN Janne
1988
FIN
27:11.5
18
39
35
GOTTWALD Felix
1976
AUT
27:13.4
19
3
214
DENIFL Wilhelm
1980
AUT
27:22.2
20
22
1003
DVORAK Miroslav
1987
CZE
27:24.8
21
9
609
LAHEURTE Maxime
1985
FRA
27:31.3
22
36
247
SPILLANE Johnny
1980
USA
27:34.1
23
13
459
LACROIX Sebastien
1983
FRA
27:41.7
24
49
1029
PITTIN Alessandro
1990
ITA
27:49.9
25
31
727
KATO Taihei
1984
JPN
27:55.1
26
44
349
HURSCHLER Seppi
1983
SUI
28:00.6
27
25
203
HEER Ronny
1981
SUI
28:03.3
28
37
768
MINATO Yusuke
1985
JPN
28:05.1
29
19
1418
BERLOT Gasper
1990
SLO
28:07.0
30
41
1067
FLETCHER Bryan
1986
USA
28:29.2
31
4
1485
NURMSALU Kaarel
1991
EST
28:41.7
32
33
623
HUG Tim
1987
SUI
28:43.6
33
42
1486
PIHO Kail
1991
EST
29:06.8
34
21
216
TAKAHASHI Daito
1980
JPN
29:10.8
35
50
1439
FLETCHER Taylor
1990
USA
29:12.8
36
52
643
MICHIELLI Giuseppe
1985
ITA
29:13.3
37
34
215
CHURAVY Pavel
1977
CZE
29:25.4
38
40
1410
BAUER Armin
1990
ITA
29:25.8
39
29
1434
JELENKO Marjan
1991
SLO
29:36.3
40
47
1488
TIIRMAA Karl-August
1989
EST
30:04.3
41
46
1436
KAMENIK Joze
1991
SLO
30:09.5
42
45
1461
SLOWIOK Pawel
1992
POL
30:17.4
43
55
164
SAVILL Wesley
1989
CAN
30:18.8
44
35
1147
POCHWALA Tomasz
1983
POL
30:22.0
45
28
1479
PANIN Ivan
1987
RUS
30:37.0
46
32
1462
CIESLAR Adam
1992
POL
30:45.2
47
38
1482
VAEHAESOEYRINKI Eetu
1990
FIN
30:48.8
48
48
960
MASLENNIKOV Sergej
1982
RUS
30:58.6
49
26
1689
NABEEV Niyaz
1989
RUS
31:06.4
50
59
100046
PIHO Han-Hendrik
1993
EST
31:47.0
51
53
1548
HAERTULL Jim
1990
FIN
31:47.6
52
58
722
TRACHUK Volodymyr
1985
UKR
32:00.5
53
56
100017
YAHIN Ernest
1991
RUS
32:02.1
54
54
100052
MURAVITSKI Aliaksei
1992
BLR
Did not start
51
715
ORANIC Mitja
1986
SLO
43
694
VODSEDALEK Ales
1985
CZE
24
257
KIRCHEISEN Bjoern
1983
GER
18
973
MOAN Magnus-H.
1983
NOR
Did not finish
57
1540
PARKHOMCHUK Andriy
1988
UKR
Comments
comments