Chappuis clenches nordic combined season title
Tweet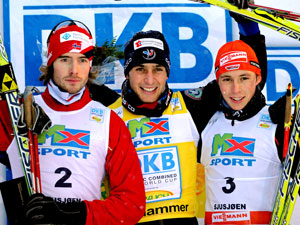 Frenchman Jason Lamy Chappuis sealed his claim on the World Cup overall season title today with a 10th-place finish in a competition in Lahti, Finland. Thought there are three World Cup competitions remaining this season, no other competitor can catch Chappuis, who has 995 points, five World cup wins and four more podiums finishes.
Norway's Magnus Moan was the winner of the day after overcoming a one minute 30 second disadvantage in the cross country race following his 14th-place jump. Finn Hannu Manninen finished second after standing 11th after the jumps and taking the third-fastest time in the cross country race. German Tino Edelmann joined them on the podium after finishing seventh in both the jump and the cross country race. He also won the Olympic gold medal in the normal hill event.
"The Olympic Winter Games were very disappointing for me, and last week, I was also sick and I wasn't able to train," said Moan, who didn't finish better than ninth at the Games. "I was curious about my shape, and I am happy that I have won this race. Under certain aspects, it was my revenge against Hannu Manninen who beat me at the 2007 Sapporo World Championships."
Austrian Felix Gottwald was the fastest skier on the cross country track but was unable to overcome his 2:28 disadvantage after finishing 37th in the jump. Gottwald currently stands in second in the overall rankings, 276 points behind Chappuis.
Johnny Spillane is currently the highest-ranking American in 8th place overall. Bill Demong stands 10th followed by Todd Lodwick in 14th. None of the three competed today.
American Taylor Fletcher led his team with a 43rd-place finish ahead of teammate Nick Hendrickson in 44th.
Before competition began this morning, athletes met with FIS officials to discus what went wrong at the Olympic competition on Feb. 25, when weather delays forced officials to restart the jumping portion of the competition after 31 athletes had jumped. Many athletes felt that there was a lack of communication between themselves and the decision-making jury. Demong and Spillane went on to win the gold and silver medals in that event.
"We don't think that our sport is developing forward, but backwards," said Gottwald in the meeting.
In a TV interview after the meeting Gottwald said that he is not yet satisfied with the given answers and said that there will be further measures. There is some speculation that there will be an athlete protest at the tour's final stop next week in in Oslo, Norway. "There can only be TV coverage when the athletes play their part," said Gottwald.
For complete results click the attachment below.
Comments
comments