Chappuis ends nordic combined season with win
Tweet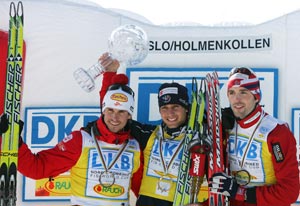 Like he's done all season, French nordic combined skier Jason Lamy Chappuis won a World Cup competition today to put an exclamation point on the end of a championship season. After sealing this season's overall title weeks ago, Chappuis took home the coveted King's Cup at Holmenkollen in Norway and the final World Cup win of the season.
Today's podium looked just like the overall standings sheet as Austrian Gottwald, runner-up in the overall points race, took second and Norway's Magnus Moan (third overall) finished third today.
It was a fairytale season for Chappuis, 23, who won five World Cup competitions and an Olympic gold medal all leading up to his first overall title. He relied on his strong jumping all season and today was no exception as he came out of the jumping portion in second place then took the 19th-fastest time in the cross country race for the win.
"It was not easy to ski 10 kilometers alone in the lead," said Chappuis. "My coaches told me how far the others were behind, and I pushed as hard as I could till the end. I'm glad I made it."
Gottwald, a cross country specialist, was 18th after the jumps but took the fastest time in the cross country race for his seventh podium of the season.
"Jason has had a great season. He jumps very well, this makes it difficult to catch him on the track," said Gottwald. "It was a nice season for me, I had a lot of fun. "I do not know if I will go on with my career. For sure, I will be at the 2011 Nordic World Championships here in Oslo, either as an athlete or as a fan."
Moan also relied on his cross country strength to climb the results. After jumping into 13th, he put down the second-best cross country time to claim his seventh World Cup podium of the season.
The U.S. was led Bill Demong today with a 10th-place finish, he jumped to 11th place and took 17th in the cross country portion. The Vancouver Games gold and silver medalist ended the season in 12th overall.
Teammate Todd Lodwick finished 12th today and 15th on the season while teammate Johnny Spillane led the team in the overall rankings in ninth. He was 32nd today.
"It was kind of a rough day but it's all over now and we're psyched to be done," U.S. Nordic Combined Head Coach Dave Jarrett said. "These guys are all pretty tired. We were hoping to finish a little better, but it wasn't meant to be today."
The U.S. Nordic Combined Team will now take part in the Olympic Heavy Metal Tour which will take them to visit U.S. military serving abroad.
Austria won the Nations Cups with 3562 points; runner up was defending champion Germany with 3068 points.
Click the link below to see complete results.
Images by Gepa
Comments
comments