Combined: Druml double winner at Continental Cup, Fletcher third and fourth
Tweet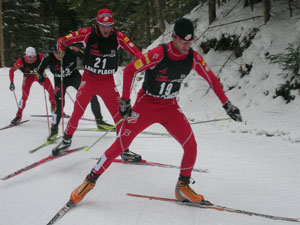 Lake Placid, NY—– Temperatures in the single digits and fine mid-winter skiing conditions greeted Continental Cup skiers for a final day yesterday, here in this Olympic village.
The powerful Austrian Tomaz Druml, his skiing and jumping both in superlative form, dominated both days' events. Druml, a Villach native, has already had 20 World Cup starts and turned it up again yesterday to win his second victory in as many days.
Both days also saw the same silver medalist in German Andreas Guenter.
Some of the biggest surprises cam from the Americans, and in particular Taylor Fletcher who skied to a career-best third-place Saturday and fourth on Sunday.
"This is so exciting", Fletcher told Ski Racing, "I'm just coming onto the team, it's my first year, and I have been hoping to get some top 10s, so this is great."
Encouraging performances also came from the likes of Park City's Nick Hendrickson who was tenth on December 19th followed by Alex Miller (SSWSC) in 12th.
With Fletcher's strong fourth on Sunday, Dec. 20, Alex Miller was tenth in the event, with returning Carl Van Loan in 13th and Willy Graves in 22nd leading a strong USA team that also saw Alex Glueck in 32nd and Nick Hendrickson in 33rd.
The top Canadian yesterday was Barrett Martineau in 43rd place.
The event was sponsored by ORDA, USSA and Lamb Lumber. Following the event Lamb, a member of the 1972 Olympic combined squad and the current VP, Nordic Combined for the FIS told us that Lake Placid has had these competitions for many years.
"I believe this is our 18th year of hosting these events here in Lake Placid. In fact the only town that has hosted more is Klingenthal, Germany. It's a pretty impressive record, and these events are vital steps for proper athlete progression," Lamb said.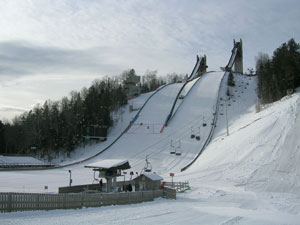 The top USA Nordic combined skiers will travel to Steamboat Springs, CO today. On Wednesday an Olympic trial at historic Howelson Hill will feature a "winner take all" format, in that, the victor will have an automatic birth on the Olympic team to Vancouver.
Story and images by Peter Q. Graves
Comments
comments