Cook repeats World Cup win in Moscow
Tweet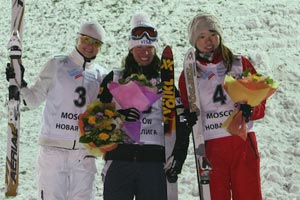 American aerialist Emily Cook today (Feb. 12) returned to Moscow, Russia with love.
The 13-year U.S. Ski Team veteran grabbed her second career World Cup win (her first also came in the Russian capitol in 2008) with a 93.06 one-jump score. Her score came in a whopping seven points ahead of second-place finisher, Ukranian jumper Olga Volkova with 85.83 points. China's Xin Zhang took third with 84.10 points.
"I'm excited for sure, especially with such a challenging day," said Cook of her win in windy and snowy conditions. "Staying under control was the key. I just had to trust the coaches and follow my plan."
Saturday's contest was a little unconventional. The jump, which was constructed of scaffolding near downtown Moscow, was not ideal and a strong headwind compounded to make for very sketchy jumping conditions, forcing both the men and the women to back off on the degree of difficulty. To address safety concerns the finals consisted of a single jump rather than the normal two.
The victory comes at a great time for Cook, who missed out on a World Championship medal at home in Deer Valley last week after leading in qualifying and the first round of jumping. The Belmont, Mass. native now owns six career World Cup podiums.
In what turned out to be a one run final, Cook was the only competitor to attempt a jump with such a high level of difficulty in the first round.
Belorussian Anton Kushnir took the men's crown with a 119.91 point score. Ukrainian Stanislav Kravchuk took silver with 102,57 points ahead of Chinese Qi Guangpu in third with 102.57.
U.S. Scotty Bahrke led the North American in eighth place with 95.35. Canadian Travis Gerrits led his team in 10th with 93.58.
"It was really windy. There was a terrible headwind," said Head Coach Todd Ossian about the conditions in Moscow. "Our guys had to do doubles because they couldn't get enough speed."
2010 FIS Rookie of the Year Ashley Caldwell (Charleston, SC) crashed in training and rather than risk an injury, opted not to compete. Caldwell did not suffer any injuries in her fall.
World Cup aerials action continues Saturday, Feb. 19, in Minsk, Belarus.
Women's Results

Rank
Bib
FIS Code
Name
Year
Nation
Result
Level
Points
1
10
2180102
COOK Emily
1979
USA
93.06
1000.00
2
3
2406021
VOLKOVA Olga
1986
UKR
85.83
800.00
3
4
2439777
ZHANG Xin
1985
CHN
84.1
600.00
4
9
2379055
DIDENKO Nadiya
1986
UKR
82.53
500.00
5
7
2484528
SCHAERER Tanja
1989
SUI
80.33
450.00
6
13
2526216
GUERIN Sabrina
1985
CAN
78.43
400.00
7
15
2485033
HUSKOVA Hanna
1992
BLR
77.14
360.00
8
16
2526217
LEE Crystal
1988
CAN
75.91
320.00
9
12
2484885
POLYUK Olga
1987
UKR
73.51
290.00
10
2
2438807
CHENG Shuang
1987
CHN
71.5
260.00
11
17
2529016
KONG Fanyu
1993
CHN
64.73
240.00
12
18
2527930
PEEL Laura
1989
AUS
51.33
0.00
Did not start
2526863
CALDWELL Ashley
1993
USA
Men's Results

Rank
Bib
FIS Code
Name
Year
Nation
Result
Level
Points
1
5
2193294
KUSHNIR Anton
1984
BLR
119.91
1000.00
2
21
2074178
KRAVCHUK Stanislav
1978
UKR
102.57
800.00
3
1
2526229
QI Guangpu
1990
CHN
102.57
600.00
4
2
2527482
JIA Zongyang
1991
CHN
99.4
500.00
5
3
2330841
ULRICH Renato
1983
SUI
98.34
450.00
6
26
2527534
BUROV Ilya
1991
RUS
97.29
400.00
7
6
2472951
ABRAMENKO Oleksandr
1988
UKR
96.05
360.00
8
13
2398843
BAHRKE Scotty
1985
USA
95.35
320.00
9
12
2330938
HAECHLER Christian
1983
SUI
94.29
290.00
10
20
2525948
GERRITS Travis
1991
CAN
93.58
260.00
11
8
2438904
WU Chao
1987
CHN
93.41
240.00
12
25
2360140
OSIPAU Denis
1983
BLR
92.7
220.00
13
17
2343160
FERGUSON Dylan
1988
USA
92.17
200.00
14
15
2485099
MORRIS David
1984
AUS
91.65
180.00
15
16
2526057
BELANGER Remi
1987
CAN
91.29
160.00
16
23
2484953
ANDRE Jean-Christophe
1989
CAN
88.65
150.00
17
28
2527997
MURAVYEV Sergey
1991
RUS
86.78
140.00
18
10
2312217
LAMBERT Thomas
1984
SUI
85.89
130.00
19
30
2526709
TABARA Naoya
1980
JPN
83.16
120.00
20
11
2306688
ISOZ Andreas
1984
SUI
82.46
110.00
21
29
2526218
VELLNER Jonathan
1987
CAN
77.12
100.00
22
14
2192615
ABLAEV Enver
1979
UKR
74.48
90.00
23
9
2484526
GUSTIK Maxim
1988
BLR
62.97
80.00
24
27
2485224
DEPETERS Matthew
1987
USA
61.15
0.00
25
31
2527790
MEDULICH Petr
1991
RUS
58.16
0.00
Did not start
2526134
LYSIANSKYI Sergii
1985
UKR
2304166
SHOULDICE Warren
1983
CAN
Comments
comments