Cross Country: Heikkinen and Khazova win in Davos World Cup, Freeman seventh
Tweet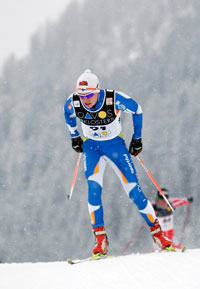 Finn Matti Heikkinen and Russian Irina Khazova claimed their first cross country World Cup victories today (Dec.12) in Davos, Switzerland.
Heikkinen took the men's 15 km race with a time of 35:54.8 over Sweden's Marcus Hellner (36:09.2) in second and Frenchman Maurice Manificat (36:10.7) in third. Fellow French skiers, Emmanuel Jonnier and Vincent Vittoz, finished fourth and fifth, respectively.
The top American man was Kris Freeman (36:31.0) with a career best seventh-place finish in the 15 km.
The Canadian men were led by Devon Kershaw in ninth and Ivan Babikov in 26th.
"It feels really good. I tried to ski like I did in Kuusamo [last week]. I just went out conservatively and was able to really take it in," Freeman said. "I'd like to be able to take a little more, but I'm pretty happy with my fitness right now and it's definitely fun to race like this."
Khazova, who missed the last two seasons with a doping ban, led the women's 10 km race with a time of 26:22.0. Sweden's Charlotte Kalla took second with a time of 26:49.3 ahead of Estonian Kristina Smigun-Vaehi in third with a time of 26:49.8.
After today's race Khazova holds the lead in the overall World Cup standings with 206 points.

The American women's effort was led by Ketchum, Idaho's Morgan Arritola in 34th place, followed by Liz Stephen in 40th and world championship silver medalist Kikkan Randall in 85th. The results marked career highs for both Arritola and Stephen.
"It was their best race of the year so far. It was a really good race for them to finish the first World Cup period with," U.S. cross country head coach Pete Vordenberg said. "It's been a nice experience and having results that show progress for them is encouraging."
The only Canadian woman to compete was Sara Renner with a 25th-place finish.
World Cup competition continues in Davos tomorrow with sprint races.

Image: Matti Heikkinen works for the win in Davos. (Gepa)

Women's Results

Men's Results
Comments
comments