Cross Country: Newell earns first World Cup podium in two years
Tweet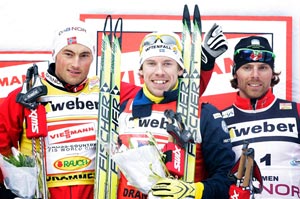 American cross country skier Andy Newell secured his first World Cup podium in two years today (March 11) in a classic 1 km sprint race in Drammen, Norway. The Shaftsbury, VT native took third behind World Cup sprint leader Emil Joensson of Sweden in first place and Vancouver Games three-time medalist Petter Northug of Norway in second.
Newell's last World Cup podium came in 2008 when he finished second in Lahti, Finland. His only other top-three World Cup finish came two years before that with a third-place results at Chanchung, China in 2006.
"To have that kind of energy and get up there on the podium for the first time ever in a classic race was pretty sweet," said the 26-year-old, two-time Olympian. "I'm really psyched. It's been way too long. It's taken me two years, so this feels good."


After qualifying 11th, Newell pushed his way through each of his heats to make the six-man final.
"It's a really scrappy race and the snow is always kind of soft. There's not really any other race like it," Newell said. "It's super scrappy on some of the corners. I was taking some tight lines. In the quarterfinal I got tangled up with a guy in the downhill and ended up cruising down it on one ski. I was lucky enough to not crash in there."


Newell, who now stands fourth in the World Cup overall sprint rankings, was disappointed in his performance at the Vancouver Games where his best result was a ninth-place finish in the team sprint.
"I was really bummed to have not been able to do this during the Olympics, so I was kind of out for revenge today," he said. "I was disappointed with the sprint at the Olympics because I had been feeling great all of February. My fitness was really good and to crash out was pretty frustrating. I was disappointed and I'm sure the rest of the ski fans in the U.S. were disappointed, so it was good to show people that we have the potential to be on the podium."


The Norwegian fans were out in droves for the exciting races, a factor Newell said fueled his drive,
"It's such a cool course because there's 70,000 people out there or something like that," said Newell.
The win marked Joensson's third World Cup victory of the season.
Today's women's race was dominated by local hero Marti Bjoergen, who took her eight win of the season (including three gold medals at the Vancouver Games) ahead of Finns Aino-Kaisa Saarinen and Pirjo Muranen in second and third, respectively.
Kikkan Randall was the lone American woman in the race. She finished 34th.
The cross country World Cup Tour now moves to Oslo, Norway for the Holmenkollen Ski Festival with a men's 50K and women's 30K mass start races on Saturday.
Image by Gepa
Men's results

Women's results 


Comments
comments