Cross Country: Randall lands first podium in two years
Tweet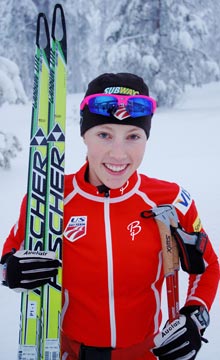 It's been 27 months since American cross country skier Kikkan Randall stood atop a World Cup podium. But the world championships silver medalist did just that today (March 14) in Oslo, Norway taking second place in a World Cup sprint.
"I'm really proud because there are a lot of times out there when other countries look so much better, they have so much support, and it's easy to get bogged down," Randall said. "But I believed succeeding was possible for so long, so it's good to show that it wasn't just a one-time thing, but that we can consistently be on the podium."
Only three-time Vancouver Games gold medalist Marti Bjoergen was faster than Randall for the win, her seventh of the season. Russian Natalia Korosteleva finished third to repeat yesterday's result.
The last time Randall, an Anchorage, Alaska native, stepped onto a World Cup podium was December of 2007 when she won a sprint in Rybinsk, Russia.
"Going into today, I really wanted to be able to race in the World Cup finals next week, but I was sitting just outside the top 50. I needed a good result in order to get enough points to qualify for those races, so it feels good to have done that," Randall said. "I just want to race a lot, give it all I have and finish out the season strong."
World Cup sprint leader, Poland's Justyna Kowalczyk finished just off the podium in fourth.
Norwegian Anders Gloeersen gave the local fans a thrill as he claimed his first victory of the season in the men's event.
Olympic bronze medalist Russian Alexey Petukhov finished second ahead of Swede Marcus Hellner in third.
American Andy Newell, who grabbed his first World Cup podium in two years earlier this week, led the U.S. in 10th place.
"It was an amazing team effort from the waxers, the coaches and the athletes. We worked really well together here in Olso," U.S. Cross Country Head Coach Peter Vordenberg said. "We made really good skis and carried out a good plan together and gave the athletes every opportunity to show what they had, and what they had was really good."
The cross country World Cup now heads to Stockholm, Sweden for sprint races on Wednesday.
Image of Randall by USSA
Women's Results



Men's Results

Comments
comments