Cross Country: Randall sets new career high in fourth
Tweet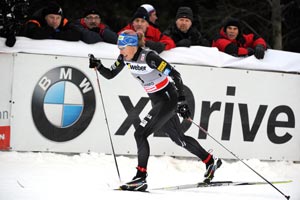 The U.S. Ski Team's Kikkan Randall scored a career best classic sprint finish, coming in fourth in the first stage of the Ruka Triple in Kuusamo, high up on the Arctic Circle of Finland. Qualifying 15th, Randall powered through to the finals after beating Poland's Justyna Kowalczak to the line in the semi-finals. Norway's Marit Bjoergen took the win with Randall 4.5 seconds out in the sprint final. Sweden's Charlotte Kalla took second ahead of Norwegian Vibeke Skofterud in third.
"I am super satisfied with my best ever classic sprint result and first final, but also a little bummed to have just missed out on a podium," said Randall, whose previous best classic sprint finish was a seventh place. "I'll be looking to keep this momentum going into the next two days."
American Andy Newell qualified 19th in the men's race but lost out in the first round of heats. Saturday's second stage of the Ruka Triple will feature 10k/5k freestyle race before concluding Sunday with a pursuit.
Randall and Newell were the only Americans to qualify for finals.

Action continues Saturday and Sunday in the three-day mini stage race the Ruka Triple.
"I am taking this mini-tour one day at a time," said Randall. "I was psyched to have a strong start today and now I will look forward to laying out two more hard efforts in the distance races. I want to race like I did last weekend and push myself to go for more top tens. At this point, all I want to do is put another bib on and go for it."
Image by Gepa
Women's Results
| | | | | | | | |
| --- | --- | --- | --- | --- | --- | --- | --- |
| Rank | Bib | FIS Code | Name | Year | Nation | Time | FIS Points |
| 1 | 5 | 1303777 | BJOERGEN Marit | 1980 | NOR | | |
| 2 | 21 | 3505217 | KALLA Charlotte | 1987 | SWE | | |
| 3 | 1 | 1305426 | SKOFTERUD Vibeke W | 1980 | NOR | | |
| 4 | 15 | 1365857 | RANDALL Kikkan | 1982 | USA | | |
| 5 | 11 | 3185137 | KYLLOENEN Anne | 1987 | FIN | | |
| 6 | 3 | 3485202 | MATVEEVA Natalia | 1986 | RUS | | |
| 7 | 27 | 3055066 | SMUTNA Katerina | 1983 | AUT | | |
| 8 | 29 | 3425301 | JOHAUG Therese | 1988 | NOR | | |
| 9 | 2 | 3565005 | VISNAR Katja | 1984 | SLO | | |
| 10 | 17 | 3505481 | BRODIN Hanna | 1990 | SWE | | |
| 11 | 13 | 3425365 | FALLA Maiken Caspersen | 1990 | NOR | | |
| 12 | 20 | 1373617 | FESSEL Nicole | 1983 | GER | | |
| 13 | 6 | 3435001 | KOWALCZYK Justyna | 1983 | POL | | |
| 14 | 12 | 3105040 | GAIAZOVA Daria | 1983 | CAN | | |
| 15 | 14 | 3505090 | INGEMARSDOTTER Ida | 1985 | SWE | | |
| 16 | 18 | 3705003 | PROCHAZKOVA Alena | 1984 | SVK | | |
| 17 | 4 | 3485342 | DOTSENKO Anastasia | 1986 | RUS | | |
| 18 | 16 | 1255665 | SAARINEN Aino- Kaisa | 1979 | FIN | | |
| 19 | 22 | 3185256 | LAHTEENMAKI Krista | 1990 | FIN | | |
| 20 | 28 | 3425275 | BRUN-LIE Celine | 1988 | NOR | | |
| 21 | 7 | 3185003 | MALVALEHTO Mona-Lisa | 1983 | FIN | | |
| 22 | 10 | 3105013 | CRAWFORD Chandra | 1983 | CAN | | |
| 23 | 19 | 1247226 | ZELLER Katrin | 1979 | GER | | |
| 24 | 23 | 3485198 | IVANOVA Julia | 1985 | RUS | | |
| 25 | 25 | 3565002 | FABJAN Vesna | 1985 | SLO | | |
| 26 | 8 | 3485032 | KOROSTELEVA Natalia | 1981 | RUS | | |
| 27 | 9 | 3485510 | MEDVEDEVA Polina | 1989 | RUS | | |
| 28 | 24 | 3205075 | HERRMANN Denise | 1988 | GER | | |
| 29 | 26 | 3185168 | NISKANEN Kerttu | 1988 | FIN | | |
| 30 | 30 | 3395048 | OJASTE Triin | 1990 | EST | | |
| 31 | 31 | 1293107 | BOEHLER Stefanie | 1981 | GER | | |
| 32 | 32 | 3395010 | PORMEISTER Piret | 1985 | EST | | |
| 33 | 33 | 3505183 | HAAG Anna | 1986 | SWE | | |
| 34 | 34 | 3295000 | BROCARD Elisa | 1984 | ITA | | |
| 35 | 35 | 3485283 | NIKOLAEVA Svetlana | 1987 | RUS | | |
| 36 | 36 | 3425410 | OESTBERG Ingvild Flugstad | 1990 | NOR | | |
| 37 | 37 | 3515038 | TRACHSEL Doris | 1984 | SUI | | |
| 38 | 38 | 3185311 | GRUNDVALL Maria | 1991 | FIN | | |
| 39 | 39 | 3565014 | JEZERSEK Barbara | 1986 | SLO | | |
| 40 | 40 | 3485013 | NOVIKOVA Valentina | 1984 | RUS | | |
| 41 | 41 | 3185088 | AEHTAEVAE Ann-Mary | 1973 | FIN | | |
| 42 | 42 | 3195056 | JEAN Aurore | 1985 | FRA | | |
| 43 | 43 | 3535124 | SARGENT Ida | 1988 | USA | | |
| 44 | 44 | 3105019 | JONES Perianne | 1985 | CAN | | |
| 45 | 45 | 3485491 | TANYGINA Alevtina | 1989 | RUS | | |
| 46 | 46 | 3425349 | KRISTOFFERSEN Marthe | 1989 | NOR | | |
| 47 | 47 | 3535320 | BJORNSEN Sadie | 1989 | USA | | |
| 48 | 48 | 3505069 | LINDBORG Sara | 1983 | SWE | | |
| 49 | 49 | 3185004 | SARASOJA-LILJA Riikka | 1982 | FIN | | |
| 50 | 50 | 3105084 | MARSHALL Alysson | 1988 | CAN | | |
| 51 | 51 | 3395035 | ROHTLA Laura | 1985 | EST | | |
| 52 | 52 | 3505258 | KORSGREN Lina | 1988 | SWE | | |
| 53 | 53 | 3185114 | AHERVO Laura | 1984 | FIN | | |
| 54 | 54 | 1371774 | KAZAKUL Anastasia | 1982 | RUS | | |
| 55 | 55 | 3675019 | SLONOVA Anastasia | 1991 | KAZ | | |
| 56 | 56 | 1255374 | ROPONEN Riitta-Liisa | 1978 | FIN | | |
| 57 | 57 | 1312216 | BONER Seraina | 1982 | SUI | | |
| 58 | 58 | 3295088 | DE MARTIN TOPRANIN Virginia | 1987 | ITA | | |
| 59 | 59 | 3195059 | BARTHELEMY Laure | 1988 | FRA | | |
| 60 | 60 | 3425499 | WENG Heidi | 1991 | NOR | | |
| 61 | 61 | 1181848 | YATSKAYA Oxana | 1978 | KAZ | | |
| 62 | 62 | 1319976 | KOLOMINA Yelena | 1981 | KAZ | | |
| 63 | 63 | 3505003 | RYDQVIST Maria | 1983 | SWE | | |
| 64 | 64 | 3485193 | KHAZOVA Irina | 1984 | RUS | | |
| 65 | 65 | 3425003 | STEIRA Kristin Stoermer | 1981 | NOR | | |
| 66 | 66 | 3195040 | FAIVRE PICON Anouk | 1986 | FRA | | |
| 67 | 67 | 3505445 | OEBERG Jennie | 1989 | SWE | | |
| 68 | 68 | 3195010 | HUGUE Coraline | 1984 | FRA | | |
| 69 | 69 | 3185089 | HAKALA Maija | 1984 | FIN | | |
| 70 | 70 | 3535142 | BROOKS Holly | 1982 | USA | | |
| 71 | 71 | 3435098 | MARCISZ Ewelina | 1991 | POL | | |
| 72 | 72 | 1274580 | ISHIDA Masako | 1980 | JPN | | |
| 73 | 73 | 1142563 | SHEVCHENKO Valentina | 1975 | UKR | | |
| 74 | 74 | 3425183 | JACOBSEN Astrid Uhrenholdt | 1987 | NOR | | |
| 75 | 75 | 3185262 | KAUPPINEN Tanja | 1991 | FIN | | |
| 76 | 76 | 3295089 | GORRA Melissa | 1988 | ITA | | |
| 77 | 77 | 3505497 | LARSEN Lisa | 1990 | SWE | | |
| 78 | 78 | 1354799 | GYORGY Monika | 1982 | ROU | | |
| 79 | 80 | 3435014 | JASKOWIEC Sylwia | 1986 | POL | | |
| 79 | 79 | 3205124 | SIEGEL Monique | 1989 | GER | | |
| 81 | 81 | 3675018 | MATROSSOVA Marina | 1990 | KAZ | | |
| 82 | 82 | 3695016 | ANTSYBOR Maryna | 1987 | UKR | | |
| 83 | 83 | 3295015 | RUPIL Silvia | 1985 | ITA | | |
| 84 | 84 | 3435031 | MACIUSZEK Paulina | 1985 | POL | | |
| 85 | 85 | 3535261 | STEPHEN Elizabeth | 1987 | USA | | |
| 86 | 86 | 3185265 | PITKAENEN Marjaana | 1991 | FIN | | |
| 87 | 87 | 3295141 | AGREITER Debora | 1991 | ITA | | |
| 88 | 88 | 3785012 | ARDISAUSKAITE Ingrida | 1993 | LTU | | |
| 89 | 89 | 3295013 | PILLER Marina | 1984 | ITA | | |
| 90 | 90 | 3095010 | GRIGOROVA-BURGOVA Antoniya | 1986 | BUL | | |
Men's Results
Rank
Bib
FIS Code
Name
Year
Nation
Time
FIS Points
1
24
3500330
PETERSON Teodor
1988
SWE
2
3
3480436
KRIUKOV Nikita
1985
RUS
3
16
3420089
PETTERSEN Oeystein
1983
NOR
4
5
3420365
BRANDSDAL Eirik
1986
NOR
5
4
3100097
VALJAS Len
1988
CAN
6
1
3180250
PENTSINEN Anssi
1986
FIN
7
2
3500407
MODIN Jesper
1988
SWE
8
15
3670000
CHEBOTKO Nikolay
1982
KAZ
9
6
3480021
PETUKHOV Alexey
1983
RUS
10
13
3480314
CHERNOUSOV Ilia
1986
RUS
11
12
3510023
COLOGNA Dario
1986
SUI
12
20
3390050
SIMONLATSER Timo
1986
EST
13
7
3390003
KUMMEL Peeter
1982
EST
14
11
3180228
PAAKKONEN Lasse
1986
FIN
15
22
3480503
GAFAROV Anton
1987
RUS
16
28
3420239
NORTHUG Petter jr.
1986
NOR
17
8
3420036
ROENNING Eldar
1982
NOR
18
14
3480016
LEGKOV Alexander
1983
RUS
19
19
3530005
NEWELL Andrew
1983
USA
20
21
3420077
HATTESTAD Ola Vigen
1982
NOR
21
17
3180114
STRANDVALL Matias
1985
FIN
22
23
1221327
TEICHMANN Axel
1979
GER
23
25
3481161
BELOV Evgeniy
1990
RUS
24
29
3100110
HARVEY Alex
1988
CAN
25
9
3390033
EINASTE Kein
1985
EST
26
18
1344711
JAUHOJAERVI Sami
1981
FIN
27
27
3190070
MIRANDA Cyril
1985
FRA
28
10
1276617
ONDA Yuichi
1980
JPN
29
26
1223267
PASINI Renato
1977
ITA
30
30
3200001
GOERING Franz
1984
GER
31
31
1345875
GAILLARD Jean Marc
1980
FRA
32
32
3390103
TAMMJARV Karel
1989
EST
33
33
3180054
NOUSIAINEN Ville
1983
FIN
34
34
3500664
HALFVARSSON Calle
1989
SWE
35
35
3500015
RICKARDSSON Daniel
1982
SWE
36
36
3180221
JYLHAE Martti
1987
FIN
37
37
3390101
RANKEL Raido
1990
EST
38
38
1283892
OLSSON Johan
1980
SWE
39
39
3390034
KARP Algo
1985
EST
40
40
3180301
LEHTONEN Lari
1987
FIN
41
41
3150069
JAKS Martin
1986
CZE
42
42
3480695
BESSMERTNYKH Alexander
1986
RUS
43
43
3700049
MLYNAR Peter
1988
SVK
44
44
3420023
GJERDALEN Tord Asle
1983
NOR
45
45
3670007
POLTORANIN Alexey
1987
KAZ
46
46
3420961
KROGH Finn Haagen
1990
NOR
47
47
3660055
VORANAU Aliaksandr
1990
BLR
48
48
3420002
DAHL John Kristian
1981
NOR
49
49
3150105
HORYNA Ondrej
1987
CZE
50
50
3200121
KUEHNE Andy
1987
GER
51
51
1362947
PERL Curdin
1984
SUI
52
52
3180408
LUUSUA Ari
1988
FIN
53
53
3500139
HELLNER Marcus
1985
SWE
54
54
1067291
DI CENTA Giorgio
1972
ITA
55
55
3670006
CHEREPANOV Sergey
1986
KAZ
56
56
3100006
KERSHAW Devon
1982
CAN
57
57
3690014
BILOSYUK Ivan
1984
UKR
58
58
3190111
MANIFICAT Maurice
1986
FRA
59
59
1217350
BAUER Lukas
1977
CZE
60
60
3300373
MIYAZAWA Hiroyuki
1991
JPN
61
61
1178162
ANGERER Tobias
1977
GER
62
62
3480832
SEDOV Petr
1990
RUS
63
63
3180204
KOUTANIEMI Mikko
1986
FIN
64
64
3290245
NOECKLER Dietmar
1988
ITA
65
65
3290004
SCOLA Fulvio
1982
ITA
66
66
3190162
GUEDON Pierre
1989
FRA
67
67
3670049
VOLOTKA Denis
1985
KAZ
68
68
3430103
STAREGA Maciej
1990
POL
69
69
3480013
VYLEGZHANIN Maxim
1982
RUS
70
71
1221036
FILBRICH Jens
1979
GER
70
70
1310470
KRECZMER Maciej
1981
POL
72
72
3660013
LASUTKIN Alexander
1983
BLR
73
73
3500755
JONSSON Fredrik
1990
SWE
74
74
1268566
EIGENMANN Christoph
1979
SUI
75
75
3670022
VELICHKO Yevgeniy
1987
KAZ
76
76
3180132
SIMULA Jussi
1985
FIN
77
77
3500141
NELSON Lars
1985
SWE
78
78
1323468
REHEMAA Aivar
1982
EST
79
79
3660065
SEMENOV Michail
1986
BLR
80
80
3190125
POIRRIER Bastien
1988
FRA
81
81
3290007
HOFER David
1983
ITA
82
82
1285347
FREEMAN Kris
1980
USA
83
83
3180350
MIKKOLAINEN Juha-Matti
1987
FIN
84
84
3690030
PEREKHODA Ruslan
1987
UKR
85
85
3420605
ROETHE Sjur
1988
NOR
86
86
1292331
SIMILAE Tero
1980
FIN
87
87
3100004
GOLDSACK Drew
1981
CAN
88
88
3420009
JESPERSEN Chris Andre
1983
NOR
89
89
3430056
MICHALEK Mariusz
1987
POL
90
90
1286608
PERRILLAT Christophe
1979
FRA
91
91
3100034
NISHIKAWA Graham
1983
CAN
92
92
3300190
YOSHIDA Keishin
1987
JPN
93
93
3180200
HARKONEN Teemu
1983
FIN
94
94
3300330
LENTING Akira
1990
JPN
95
95
3200072
KATZ Andreas
1988
GER
96
96
1248293
SOEDERGREN Anders
1977
SWE
97
97
3290016
CLARA Roland
1982
ITA
98
98
3300021
NARUSE Nobu
1984
JPN
99
99
3200015
REICHELT Tom
1982
GER
100
100
3100190
BABIKOV Ivan
1980
CAN
101
101
3090024
TSINZOV Veselin
1986
BUL
102
102
1196883
FLORA Lars
1978
USA
103
103
3690018
BILOSYUK Myroslav
1985
UKR
104
104
3690023
SHVIDKIY Oleksiy
1986
UKR
105
105
1139459
PILLER COTTRER Pietro
1974
ITA
106
106
3200127
MARSCHALL Philipp
1988
GER
107
107
3190029
DUVILLARD Robin
1983
FRA
108
108
1175155
MAGAL Jiri
1977
CZE
109
109
1363141
FISCHER Remo
1981
SUI
110
110
3550066
LIEPINS Arvis
1990
LAT
111
111
3100128
SANDAU Kevin
1988
CAN
112
112
1106867
BAJCICAK Martin
1976
SVK
113
113
3740021
MIKAYELYAN Sergey
1992
ARM
114
114
1125588
DOLIDOVICH Sergei
1973
BLR
115
115
1362656
LIVERS Toni
1983
SUI
116
116
1223849
CHECCHI Valerio
1980
ITA
117
117
3050194
LANDERTINGER Dominik
1988
AUT
118
118
3780025
STROLIA Vytautas
1992
LTU
119
119
3090025
BURGOV Ivan
1986
BUL
120
120
3530489
HOFFMAN Noah
1989
USA
121
121
3480280
MORILOV Nikolay
1986
RUS
122
122
3530492
ELLIOTT Tad
1988
USA
123
123
3460018
PEPENE Paul Constantin
1988
ROU
124
124
3460021
HOGIU Petrica
1991
ROU
Did not start
1002
3530120
HAMILTON Simeon
1987
USA
1001
3150035
KOZISEK Dusan
1983
CZE
Comments
comments