Cross country World Cup starts this weekend
Tweet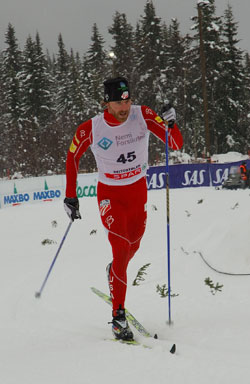 The kick off of the World Cup and Olympic season is set to start this weekend at Beitostoelen, Norway, some 200 kilometers north of Oslo, at the foot of the famed Jotunheim mountain range. More than 28 nation's will be on hand for two days of racing, which will feature a women's 10 km and men's 15km skate race followed the next day by men's and women's relays.
Last weekend in Norway the U.S. Team had some very impressive showings, notably Kris Freeman who posted a pair of 5th places and world championships silver medalist Kikkan Randall, who had a fourth-place result. U.S. Head Coach Pete Vordenberg said following the races that he was pleased with the results, but cautioned, "these results are great, but they're not what we're judging the races off of, we are looking at this whole part of the season as preparation. It was great skiing by all and it was a really fun day."
With a worldwide array of talent everyone is ready to show the world just how their off-season training went. Norway, Sweden, Finland, Italy, along with last season's overall cup winners, Dario Cologna (SUI) and Justyna Kowalczyk (POL) will be on hand. Cologna's preparations suffered a set back in early fall due to a thigh injury. Norway was especially dominant in races last weekend. Petter Northug grabbed one win, while Martin Sundy Johrun also skied to a win. Marit Bjorgen was also in fine early season form.
Both the USA and Canadian team's are clearly demonstrating they have world-class talent. Again, Coach Vordenberg said, " We are excited, not just because of last weekend, but because we feel like we've been preparing well all summer, and we have some big goals and we are looking ahead to those."
American, Andy Newell said from Norway that he re-tooled some of his training from last year, as well. "I think my switch to a more distance style training plan this summer has paid off and my fitness is great. I really felt it in the 10km classic the other day. Distance racing is so much fun when you are in shape. It's my goal to score World Cup distance points this year, and it's going to be completely possible with my fitness heading in the right direction," he offered.
On his own sprinting at last weekend's races, Newell said, "I had a smooth run in the qualifications, no major problems other than maybe not moving as fast as I normally do. I was first out of the gate and didn't really have anybody to pace off of. I started too conservatively and left too much energy for the last 200 meters. I ended up qualifying 10th. I am confident that things will improve throughout the season. I'd much rather qualify back in the teens and then make it to the finals." Newell is expected to take part in this year's 4th Tour de Ski.
Following races in Norway, the FIS World Cup tour will move to Kuusamo, Finland for it's second round.
By Peter Q. Graves

Image: Andy Newell races last weekend in Norway. (Pete Vordenberg)
Comments
comments