DelBosco, David win World Cup ski cross in France
Tweet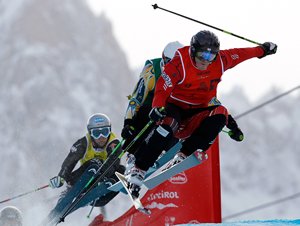 Christopher DelBosco is back. And he's shooting for the stars.
The Canadian ski cross athlete collected his first World Cup win in nearly a year Sunday (Jan. 16) in a World Cup ski cross event at Les Contamines, France announcing he is feeling no ill effects from knee surgery.
DelBosco blasted out of the start of the final and left Andreas Matt, Egor Korotkov and Alex Fiva in his wake.
"It all worked out today," the two time World Cup runner-up said. "I knew it would come down to the start really, knew if I could get out in front it would be alright. I got out fast and never looked back."
Ophelie David got her first win of the season in a bid to claim her eighth straight ski cross crown. She got ahead of Canadian Kelsey Serwa, the second place winner and current standing leader in the finals. Anna Holmlund was third and Mario Josserand fourth.
Del Bosco said he had initially resigned himself to "a long year off," but said his recovery was progressing so well he was now back in the business of setting some lofty goals.
"I can feel it very now and then," he said of the injury, "but minor, minor things. There's no swelling or inflammation. It doesn't effect my skiing at all."
He said he felt the win "gives me a shot," at the tour lead, as he is the fifth winner after five events.
"It's been an interesting year (on the World Cup tour)," he said. "One week a guys wins and the next week he doesn't qualify. Definitely one of my goals is the tour and definitely World Champs; I'm looking for some redemption there. And the X-Games is going to be huge. … I set my goals pretty high."
Place
Les
Contamines (FRA)
Discipline
Ski Cross
Date
16.01.2011
Category
World Cup
Race codex
8104
Gender
M
TD Name
Waldspurger Dieter (SUI)
Rank
Bib
FIS Code
Name
Year
Nation
Result
Level
Points
1
3
2526820
DELBOSCO Christopher
1982
CAN
1000.00
2
2
2451417
MATT Andreas
1982
AUT
800.00
3
8
2525886
KOROTKOV Egor
1986
RUS
600.00
4
4
2526955
FIVA Alex
1986
SUI
500.00
5
7
2450835
MIAILLIER Sylvain
1986
FRA
450.00
6
20
2392635
STEFFEN Andreas
1975
SUI
400.00
7
24
2527144
KNELLER Scott
1989
AUS
360.00
8
6
2528718
CHAPUIS Jean Frederic
1989
FRA
320.00
9
1
2527361
PELLINEN Jouni
1983
FIN
290.00
10
5
2528672
DEVOUASSOUX Jonas
1989
FRA
260.00
11
11
2526291
NIEDERER Armin
1987
SUI
240.00
12
12
2526789
STICKL Simon
1987
GER
220.00
13
14
2411938
ZANGERL Thomas
1983
AUT
200.00
14
15
2484604
KOLLER Patrick
1983
AUT
180.00
15
16
2527055
DANDEVILLE Lucas
1991
FRA
160.00
16
23
2484520
BENNETT Brian
1980
CAN
150.00
17
9
2527624
GASSER Patrick
1985
SUI
140.00
18
10
2526877
BOVOLENTA Arnaud
1988
FRA
130.00
19
13
2386524
KRAUS Tomas
1974
CZE
120.00
20
17
2412714
SAFAR Zdenek
1978
CZE
110.00
21
18
2527399
TELLER John
1983
USA
100.00
22
19
2384681
WALDNER Klaus
1980
AUT
90.00
23
21
2527032
FLISAR Filip
1987
SLO
80.00
24
22
2526998
WAHRSTOETTER Christoph
1989
AUT
70.00
25
25
2385263
KONO Kenji
1983
JPN
60.00
26
26
2528709
CASTELLAZ Diego
1985
ITA
50.00
27
27
2527607
BORGE LIE Thomas
1985
NOR
45.00
28
28
2528515
MIDOL Bastien
1990
FRA
40.00
29
29
2527142
GRIMUS Anton
1990
AUS
36.00
30
30
2527541
BIANCHINI Aurelien
1988
FRA
32.00
31
31
2526576
DUMAX BAUDRON Yann
1988
FRA
28.00
32
32
2526879
STENGG Florian
1989
AUT
26.00
33
2527030
WOELFL Mathias
1984
GER
24.00
34
2527622
JUELL Didrik Bastian
1990
NOR
22.00
35
2527042
ECKERT Paul
1990
GER
20.00
36
2528200
FISCHER Thomas
1986
GER
19.70
37
2526785
ZAGORSKI Wojciech
1985
POL
19.40
38
2527760
REY Stanislas
1988
CAN
19.10
39
2484562
PICCARD Ted
1978
FRA
18.80
40
2447828
BARR Davey
1977
CAN
18.50
41
2526137
FORSLUND Michael
1986
SWE
18.20
42
2528541
OEHLING NORBERG Victor
1990
SWE
17.90
43
2526947
JECL Simon
1986
SLO
17.60
44
2526943
RUDIGOZ Jean Christophe
1981
USA
17.30
45
2527952
WHELAN Peter Edwin
1989
GBR
17.00
46
2527297
EIGLER Florian
1990
GER
16.70
47
2526949
ADORJAN Matej
1987
SLO
16.40
48
2448410
NETZER Conradign
1980
SUI
16.10
49
2527736
COMBRE Thibault
1990
FRA
15.80
50
2526349
STAEHLI Peter
1989
SUI
15.50
51
2485174
ORLOWSKI Marcin
1985
POL
0.00
52
2529018
MARTINI Alex
1986
ITA
0.00
53
2452096
FUKUI Godai
1983
JPN
0.00
54
2412132
HAUKKALA Juha
1978
FIN
0.00
55
2527037
PASTORE Federico
1977
ARG
0.00
Did not start
2526897
DUNCAN David
1982
CAN
2422026
LENEL Robin
1985
FRA
Did not finish
2485016
DANILOV Artem
1986
RUS
2527709
BJOERNNES Magnus
1993
NOR
2527296
BOHNACKER Daniel
1990
GER
2527284
ZORICIC Nick
1983
CAN
2528136
DURAN Patrick
1985
USA
Place
Les
Contamines (FRA)
Discipline
Ski Cross
Date
16.01.2011
Category
World Cup
Race codex
8103
Gender
L
TD Name
Waldspurger Dieter (SUI)
Rank
Bib
FIS Code
Name
Year
Nation
Result
Level
Points
1
1
2394866
DAVID Ophelie
1976
FRA
1000.00
2
8
2527273
SERWA Kelsey
1989
CAN
800.00
3
2
2527563
HOLMLUND Anna
1987
SWE
600.00
4
7
2526237
JOSSERAND Marion
1986
FRA
500.00
5
5
2485085
OWENS Jenny
1978
AUS
450.00
6
3
2484439
MCIVOR Ashleigh
1983
CAN
400.00
7
6
2527434
ZACHER Heidi
1988
GER
360.00
8
12
2527513
HOEIE GJEFSEN Marte
1989
NOR
320.00
9
4
2527841
KUCEROVA Nikol
1989
CZE
290.00
10
9
2528710
TEGLIA Eleonora Anna
1987
ITA
260.00
11
10
2526363
MUELLER Katrin
1989
SUI
240.00
12
11
2527829
MILLET GOUCHOE Jessica
1990
FRA
220.00
13
13
2525991
GALLAND Helena
1986
FRA
200.00
14
14
2527287
POLESCHUK Danielle
1986
CAN
180.00
15
15
2527689
THOMPSON Marielle
1992
CAN
160.00
16
16
2526906
MURRAY Julia
1988
CAN
150.00
17
2323372
CREMA Katya
1988
AUS
140.00
18
2526015
OFNER Katrin
1990
AUT
130.00
19
2526849
WOERNER Anna
1989
GER
120.00
20
2525884
LIVINSKAYA Yulia
1990
RUS
110.00
21
2526527
JENSEN Julie Brendengen
1990
NOR
100.00
22
2527349
UMEHARA Reina
1983
JPN
90.00
23
2526373
SMITH Fanny
1992
SUI
80.00
24
2452775
FUKUSHIMA Noriko
1979
JPN
70.00
25
2484649
SARSFIELD Emily
1983
GBR
60.00
26
2526328
KENNEDY Sami
1988
AUS
50.00
27
2446955
GRAUVOGL Alexandra
1981
GER
45.00
28
2526828
GREIG Michelle
1988
NZE
0.00
29
2527168
HIOKI Chiyako
1984
JPN
0.00
Did not finish
2527570
LIMBACHER Andrea
1989
AUT
2526530
RIEMEN Karolina
1988
POL
Comments
comments