Expectations high for U.S. nordic combined
Tweet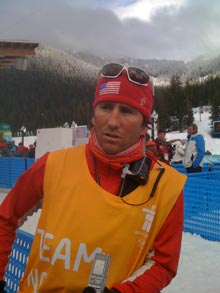 Following a winter and Olympic Games that could only be called spectacular, the U.S. Nordic Combined Ski Team is already back at it, looking to rock the nordic combined world again this season.
"Training has begun and we are a month into it at this point", said Head Coach Dave Jarrett, in an exclusive interview with Ski Racing. "We are going to stay close to home until early August, and then we will go to Europe…some of the guys will do the Summer Grand Prix while others will do a training camp…." Jarrett continued.
The U.S. squad will hold a training camp in Steamboat Springs, Colo. the week prior to the fourth of July. At this time, it appears that the U.S. Nationals for both nordic combined and ski jumping are likely to be held in Park City, Utah the last weekend of July.
"As far as the rest of the training season goes, we are waiting to hear about funding initiatives. If we get our two main initiatives funded we will return to Europe at the start of September and go to Lake Placid at the beginning of October," Jarrett said.
Jarrett told SR that most likely the younger skiers will do the Summer Grand Prix while the older athletes will either be training in Europe or at home. He also said that Billy Demong, who has had great success with bike racing, will take part in three big stage races this summer; including the Cascade Classic, Mt. Hood and the Tour of Utah. Todd Lodwick is also reportedly looking at the second Europe camp as well, while Johnny Spillane will attend a camp in Europe in August, and will return for the birth of his first child in September.
By Peter Graves
Photo of Jarrett by Peter Graves
Comments
comments