FIS Cross Country Racing: American Sargent takes fourth
Tweet
FIS Cross Country racing opened Sunday (Nov 7.) in a pair of northern locales; Muonio, Finland and Rybinsk, Russia prior to the start of the season's first World Cup events in Sweden.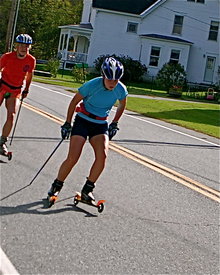 The racing in Finland was held under frigid weather conditions with the temperatures, a brisk -14 Celsius. Sprints were the order of the day with Triin Ojaste, (EST) dominating both the qualifying rounds and the overall title, while Alena Prochazkova (SVK) was second and Elena Kolomina (KAZ) third. The United States' Ida Sargent (women's co- captain of the Dartmouth Ski Team) skied strongly in the race after qualifying second, and ending the day in an impressive fourth place, amongst a strong field.
The men's event in Finland saw Estonia's Kein Einaste take the win, while Patrick O'Brien, now training out of the Green Team in Craftsbury, VT, was the top American in 30th position.
Sargent's Darmouth Nordic Coach Cami Thompson was delighted by the news, "She really just got there, and Ida wasn't certain she'd even race today, but she did and what a result. I am thrilled by the way she is starting the season. This is great news."
Another group of athletes began their season by racing in Rybins, Russia. The field was strong but it was exclusively comprised of Russian skiers. The race featured more sprint racing and was held under a host of weather conditions including wind and rain, all on man-made snow.
In the women's 1.4km event, the Russian star Natalia Korosteleva took the win over Jana Janovskaja. In the men's 1.7km classic sprint, the Vancouver Olympic gold medalist in classic sprint looks to be on-form for another strong winter, as Nikita Kriukov dominated the race. Russian skier Alexander Panzhinskiy finished in second.
Members of the men's and women's USA national team are expected to travel today to Muonio, Finland to begin final on-snow preparations for the coming season.
–Peter Graves
Image: Ida Sargent at Dartmouth College in Hanover, NH.
Comments
comments