Flora, Bjornsen Top U.S. Cross Country Champs Podium
Tweet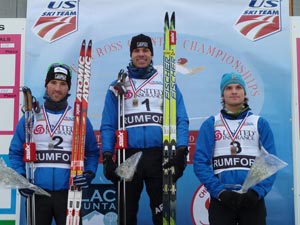 RUMFORD, ME (Jan. 5) – Alaska Pacific University's (APU) Lars Flora (Anchorage) and Sadie Bjornsen (Anchorage) grabbed the top honors and U.S. Cross Country Championship titles Wednesday in the men's and women's 15/10k classic technique race held at Rumford.
Light snow conditions didn't stop Black Mountain of Maine Wednesday, as they spent the past two days blowing and moving snow.
"It was kind of interesting because we walked the course yesterday and there was hardly any snow, but I was confident they would pull it together," said Bjornsen. "I was impressed. It was awesome skiing out there."
In the men's 15k, SuperTour leader Flora crossed the line first in 43:29.1 to take the men's U.S. Championship title, while APU teammate James Southam (Anchorage) finished second and University of Alaska Fairbanks's David Norris (Fairbanks, AK) finished third.
"I just went out in the first two laps and pushed the pedal. I was a little worried out there that I might blow up," admitted Flora. "But I had really good splits on Noah [Hoffman, Aspen, CO], and I was building my lead and James [Southam] and I were pretty much staying even. James came on pretty hard at the end, but I am so happy with the race – great skis, great course. I'm really impressed with the course and all the people that worked on it."
Like in the men's race, APU landed the top two women's podium spots with Bjornsen leading the way in 32:09.9. Bjornsen was followed by Morgan Smyth (Park City, UT) in second. The U.S. Ski Team's Morgan Arritola (Fairfield, ID) closed out the podium in third.
"We had great skis and I really liked the short loop. I kind of went into to it thinking it was like running a mile," said Bjornsen "I had a game plan going into it. I went out hard and just held it for the rest of the way."
The U.S. Cross Country Championships continue in Rumford Thursday with the men's and women's 30/20k free.
For more information about the 2011 U.S. Cross Country Championships is available at www.chisholmskiclub.org. Live updates, pictures and video are available on the U.S. Cross Country Championships Facebook fan page and at USSA_Nordic on Twitter.

OFFICIAL RESULTS
U.S. Cross Country Championships
Rumford, ME – Jan. 5, 2011
15/10k Classic
Men
1. Lars Flora, Anchorage, (Alaska Pacific University), 43:29.1
2. James Southam, Anchorage, (Alaska Pacific University), 43:47.5
3. David Norris, Fairbanks, AK, (University of Alaska Fairbanks), 44:10.7
-
7. Noah Hoffman, Aspen, CO, (U.S. Ski Team/Aspen Valley Ski Club), 44:29.7
Women
1. Sadie Bjornsen, Anchorage, (Alaska Pacific University), 32:09.9
2. Morgan Smyth, Park City, UT, (Alaska Pacific University), 32:40.0
3. Morgan Arritola, Fairfield, ID, (U.S. Ski Team/Sun Valley Ski Education Foundation), 32:58.5
-
10. Liz Stephen, East Montpellier, VT, (U.S. Ski Team/Burke Mountain Academy), 33:40.7
For complete results: www.fis-ski.com
Comments
comments