On the Fly: Caldwell Comes Full Circle in Lake Placid
Tweet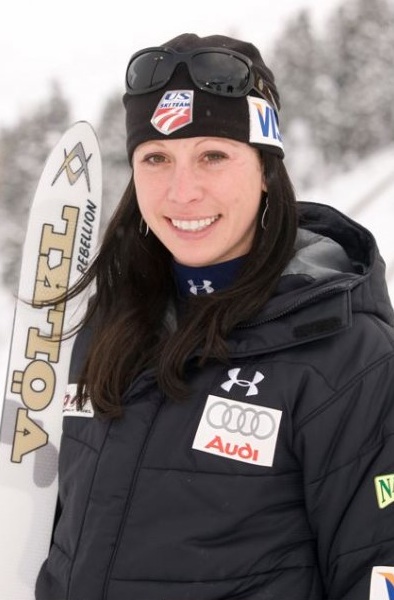 I first met Ashley Caldwell while sharing a room with her at the Olympic Training Center in Lake Placid, New York. I hadn't given much thought to the age difference in our first few days together until she said, "Emily, did you know you're double my age?" Quite a revelation, and one that made me laugh out loud and feel a tiny old to be honest. Ashley was 14 and I was 28. Little did I know, this young girl would soon be joining me on an Olympic Team and topping a World Cup podium.
This was three years ago, and the Elite Aerial Program run by Dmitriy Kavunov was in its first few weeks of development. Ashley was Kavunov's first athlete and my teammate Ryan St.Onge and I were on hand in Placid as well, eager to learn as much from our new aerials and trampoline guru as possible. For a day or two, Ashley was quiet and a bit timid, but she had a fire in her that was palpable and her shyness very quickly turned into a teenage energy that was hard to keep up with.
Three years later (this past weekend), I had the incredible opportunity of watching Ashley dominate the women's aerials field and win her first World Cup at the Nature Valley Freestyle Challenge right where she started in Lake Placid, New York. But more on that later…
I spent around two months in the OTC with Ashley that first summer, and learned early on that she was something different. Her energy and enthusiasm was contagious; as was her work ethic, Ashley lived and breathed aerials. Upon returning to Park City, I kept up with her progress and was shocked at the rate at which she was improving. The program was also growing; Kavunov now had a clan of young athletes all impatient to move up the ranks of the aerials world, and the OTC was nurturing their talents perfectly. With housing and meals covered and a comprehensive facility with sports science, sports medicine, gym, trampoline and water ramp facilities available, these young athletes had all the time in the world to simply focus on training; and they were loving it. Within a year, Ashley had moved up to the double jump and was persistently working to increasing her degree of difficulty to have the chance to compete with the rest of the girls on the U.S. Team.
Last season, leading into the Olympic Games, Ashley began to be rewarded for her hard work. After a very successful selection event she qualified for the U.S. Team and a day later drove to Steamboat Springs for the Olympic Team Trial. In a whirlwind winner take all competition, Ashley nailed the landings of both of her jumps, barely missing victory and finishing a very close second, but not overlooking the of opportunity in front of her.
We all knew she had a chance of qualifying for the Olympic Team, which would be named just a month later. After a very quick Christmas break, the team moved on to the critical few World Cup events before the official selection, and after a demanding three weeks of competition, Ashley was in line for her first Olympic Berth. Appropriately, the Olympic Team was selected in Lake Placid, and together we celebrated her nomination in our room at the OTC. For the first time in history, the U.S. women's aerials team would field a group of four athletes: Jana Lindsey, Lacy Schnoor, myself and the 16 year-old Caldwell. She was beside herself with excitement and officially became the youngest athlete in the U.S. Olympic Team's delegation.
We had an incredible Olympics, with three women representing Team U.S.A. in the final. Our youngest teammate finished tenth in her Olympic debut and lived up every second of the games with face paint, an unwavering smile and a beautiful Olympic spirit.
Almost a year later, (Jan. 21, 2011) we found ourselves back at the Olympic Training Center for the Lake Placid World Cup. After a very successful qualification round we headed back to the training center for a quick recovery, snack, stretch and refocus for finals and then returned to the site to find the men jumping in high winds and snow. These conditions were clearly not ideal for aerial day, but there was more work to be done that day. In a "coffee shop" format, the women do their qualifying round in the morning, and return after men's qualifiers to finish with a final jump and a shot at the podium.
World Cup finals round training is often quick, around 30 minutes, and meant to allow the athletes time to get up to our highest degree of difficulty and find the right speeds before beginning the competition. Ashley and I quickly got to training and used our preparation time to get to full double full, the trick we would both be competing in the finals. On my last training jump, I felt a bit slow on speed, and when I got in the air realized I was not flipping as fast as I wanted. I pulled my knees to my chest as hard as I could, but was unable to get my feet under me. Before I knew it, my ski tips dug into the snow and my face made contact with the landing hill, flipping me over forwards and to the bottom of the hill.
I bounced up as quickly as possible to let my coaches know I was uninjured, and walked to the side of the course. "Emily, your nose is cut and bleeding," I heard our doctor say. "That's the least of my problems," I replied. I knew I had been one of the last competitors to take a training jump, and that I would soon need to be in the gate for competition as I was second on the run order. Our amazing medical staff huddled around to make sure I was ok, as I grabbed the radio. While cleaning snow out of my clothing and helmet I went through with my coach the technical changes I needed for my competition jump. Seconds later, I knew what I need to do and got on the lift to the top. As I reached the course, the first competitor turned down the inrun and I slid into the gate trying to calm my nerves, but nonetheless still shaking slightly from the crash.
It was time. I took a deep breath and calmed my body and my mind.
A moment later, my clock had started, letting me know I had fifteen seconds to turn down the inrun. However just as I was about to go one of my competitors from China skied in front of me and stood in the inrun blocking my way to the jumps. I stood up and gave my coach the closed sign. This was not protocol. She apologized profusely, but I could see Ashley out of the corner of my eye looking like she might tackle poor Tao Tao. I smiled for a second before regaining my composure. My 17-year old teammate had my back.
The confusion calmed and I looked back towards the jumps again narrowly focusing on the task at hand. "Clock is started, Em" I heard my coach say. I turned down the inrun to my second full double full of the day, this time landing strongly on my feet and skiing smoothly down the lading hill to a cheering crowd. I was elated and allowed myself to take a deep breath of relief.
I moved into first position and stayed there until the competitor who had blocked my way on the inrun bumped me into second with a beautiful version of the same jump. Ashley was up next. And upon landing an even more extraordinary version of full double full, I tackled her with hugs and squeals as 99 points flashed on the score board, bumping Tao Tao (our current world cup leader) into second and myself into third. As each competitor skied into the finish with a lower score than Ashley and myself, our eyes and smiles grew bigger. I knew it was her turn to be at the top of the world. I remembered that feeling, of standing on the top of the podium in Moscow for my own win, and was ecstatic to watch her experience that moment as well.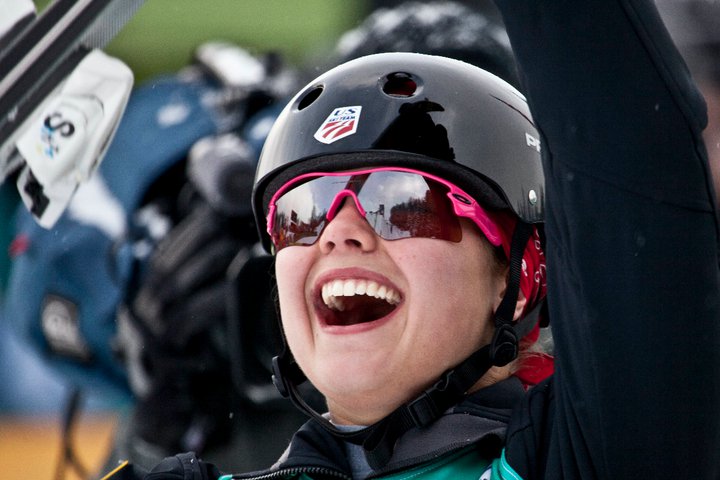 With one competitor remaining, Ashley and I huddled at the bottom of the hill, knowing she had secured her first podium, but not whether she would be at the top. Alla Tsuper from Belarus wh
o led the first round was last to go, and landed a respectable full full, but it wasn't enough to overtake my young teammate. I couldn't contain myself and before Ashley knew what had happened I attacked her with hugs, jumping up and down and screaming. This, I should note is usually her role as the little sister, but this time I simply couldn't contain myself. I had been bumped into fourth and off the podium, but Ashley had secured her very first World Cup win of which I am sure there are many more to come. She looked confused, but as it sank in I could feel her elation. Our 17-year-old teammate was the best in the world that day and I was so proud of her and so happy to have been able to share that moment with her. I pushed her out into the finish area to take an overwhelmed victory lap, and hobbled to the side to assess my own damage. I was sore from my training crash, but was uninjured and Ashley's win left me buzzing with excitement. (Image: USSA/Harald Marbler)
Later that night at a celebration dinner, I overheard someone ask Ashley what she would do now that she has reached the pinnacle of her career. "Pinnacle?" she asked. "That's not the pinnacle," she stated in a matter of fact manner. "Well, what else is there?" he asked. She replied simply, "There's way more; a world championship win, sweet triples, Olympic gold…" This is what I love about Ashley. Even after being named the best in the world on that day, she realizes how much more there is to work for, and I believe she will strive to achieve every one of those dreams and do all she can to truly be the best there ever was.
Ashley has inspired me yet again to be my best and to love the process of this amazing sport as well. Thankfully, all that is left over from my crash is a bit of soreness and a scraped up nose, but I am headed to our next World Cup in Calgary with some extra fire. The plan was to peak just in time for World Championships and I am feeling ready to step it up from two fourth places in a row, and go for the podium myself this coming weekend in preparation for our hometown World Championships.
With Ashley staying in Lake Placid to train, I am the sole American to represent the women here in Calgary, and I feel ready and excited for that opportunity. Be sure to send out some extra cheers next weekend to Calgary and then the week after to Deer Valley.
Emily Cook is a veteran athlete on the U.S. Freestyle Ski team. As an aerialist she has posted numerous World Cup podiums, is a two-time Olympian and a four-time U.S. National Champion. Throughout the season, Emily will provide an inside look at the training and competition adventures of an athlete on the U.S. Ski team. Follow Emily and her teammates from the Center Of Excellence gym to China, Russia and at home for the Freestyle World Championships in Deer Valley, Utah. Please feel free to comment with questions, suggestions or various rants. www.emilycook.com
Comments
comments