On the Fly With Emily Cook: An Athlete's Thanksgiving
Tweet
Each Thanksgiving brings us the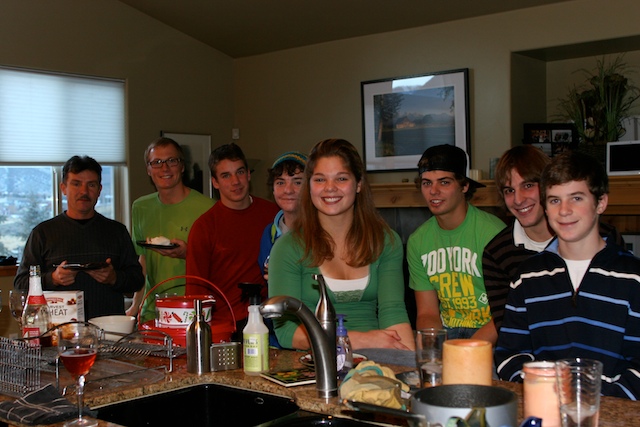 opportunity to remember the things for which we are thankful. This year, I am thankful to have the opportunity to see my family for Thanksgiving. Though the past few thanksgivings I have loved having my turkey-day table filled with my skiing family, this year I will have the joy of visiting my cousins, aunt and uncle and my 93-year-old grandfather in South Carolina for the first time in years. (Image of 2009 Aerials Team Thanksgiving in Park City, Utah)
As athletes many of us spend the holidays with teammates, coaches and whomever we consider our "extended family". We are so lucky to have these people that we consider family take us in when we are unable to travel or are not surrounded by our relatives. These holidays with our teammates seem to create a bond that holds us together throughout a long season, through major successes and also through the challenging times that inevitably come with competition.
Last year, I hosted the aerials team at my house in Park City. The feast was filled with delicious food, laughs and many games of monopoly. Quite a few of our young teammates had never spent a holiday away from their family, so I wanted to make sure that this one was filled with as much love and food as possible. Though it's sometimes hard to be away, I have learned over the years that my skiing family will always be there when I need them, good or bad, 45 hour travel day or -40 degree weather. That sort of relationship is vital to a team dynamic and to enjoying the process of being an athlete and traveling the world.
This week while many of us are sharing feasts and love with our families, the U.S. Ski Team is spread across the globe. The women's alpine team is in Aspen, men's alpine is in Lake Louise and the nordic teams are in Ruka. I feel extremely lucky to be sitting on the porch with my grandpa enjoying one last day of beautiful weather before the season begins. Though it's amazing here, I also can't wait to return to the sub-zero temperatures in Utah to start training this coming weekend.
Let's wish all of these teams the best of luck and a Happy Thanksgiving wherever they are. I know many of you readers are in a similar situation, either on the road to skiing competitions, or unable to travel home for the holidays. What are your Thanksgiving traditions, where will you celebrate, and what are you thankful for this year?
Happy Thanksgiving everyone!
Emily Cook is a veteran athlete on the U.S. Freestyle Ski team. As an aerialist she has posted numerous World Cup podiums, is a two-time Olympian and a four-time U.S. National Champion. Throughout the season, Emily will provide an inside look at the training and competition adventures of an athlete on the U.S. Ski team. Follow Emily and her teammates from the Center Of Excellence gym to China, Russia and at home for the Freestyle World Championships in Deer Valley, Utah. Please feel free to comment with questions, suggestions or various rants. www.emilycook.com
Comments
comments