Former Olympic skier Toby Dawson stars in Fox show
Tweet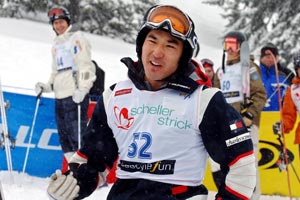 Former Olympic medalist and World Champion moguls skier Toby Dawson, who won a bronze medal at the 2006 Torino Games, will star in Fox SportsNets's next episode of Athlete 360, airing all over the country this week.
The show, hosted by Dr. Mark Adickes, a former Super Bowl-winning Redskins player turned Harvard-educated orthopedic surgeon, allows fans to get to know their favorite athletes "inside and out." Adickes, who also works with the U.S. Ski Team, brings a medical perspective to the show and goes in depth with a different athlete each episode.
In the half-hour show Dr. Adickes breaks down and explains Dawson's injuries leading up to his Olympic success and teaches viewers about skiing injuries and prevention.
Dawson, who was adopted out of a South Korean orphanage by two ski instructors from Vail, Colo., went on to compete on the U.S. Ski Team for nine years despite having to overcome the struggles of growing up in an environment where he felt he didn't fit in.
"My being different gave me all the motivation to excel, and that's what gave me all the focus and drive to become who I was and who I am today," said Dawson, who in the episode discuses the difficulty of growing up feeling like the only Asian in Vail. "The only place I could get away from being different from everybody was when I was competing. When I was skiing I had my hat and my goggles and nobody could see I was Asian. Then I was like Super Man."
In addition to his Olympic success, Dawson also collected a World Championship and seven World Cup wins during his nine-year career, a tenure that took its toll on Dawson's body. The show documents how Dawson bounced back from broken legs, broken ankles, popped kidneys and broken foot bones as well as narrowly missing the cut for the 2002 Olympic team to achieve his dream as an American Olympic medalist.
Adickes walks viewers through the treatment of Dawson's injuries and exactly what it took for Dawson to compete on a broken foot at the Games.
Click here to see when the episode will air in your area.
Comments
comments