Freeskiing events added to Cup schedule
Tweet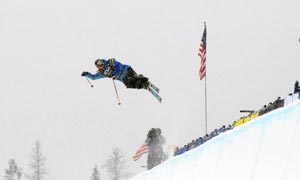 The Visa U.S. Freeskiing Grand Prix events in Copper Mountain, Colo. and Mammoth Mountain, Calif. got a boost from the International Ski Federation this week. Halfpipe skiing competitions at both sites, as well as the slopestyle skiing competition at Mammoth Mountain, were added to the FIS Freestyle World Cup calendar as Freeskiing prepares for its Olympic debut at Sochi, Russia in 2014.
The addition to the FIS Freestyle Ski World Cup gives the competitions sanctioning in the sport, along with already being a part of the Association of Freeskiing Professionals (AFP) World Tour.
"It's important to us to have our freeskiing events at the highest levels of both the FIS and AFP," said U.S. Freeskiing Director Jeremy Forster. "We especially appreciate the willingness of FIS to partner with the freeskiing community not only on these events but in creating consistency of judging, formats and education across the sport worldwide."
The Visa U.S. Freeskiing Grand Prix will open with a halfpipe skiing competition Dec. 7-9 in Copper Mountain. The series will conclude Feb. 29 – Mar. 3 in Mammoth Mountain with both halfpipe and slopestyle skiing. Slopestyle is a new addition to the FIS Freestyle Ski World Cup schedule.
USSA's Grand Prix circuit started with snowboarding in 1995 and has continued as the longest standing top circuit in the sport. Freeskiing was added to the program a year ago with a debut event at Copper.
The U.S. Ski and Snowboard Association rolled out a new U.S. Freeskiing program last January, and has been a leader in pushing the new sports through FIS to the International Olympic Committee (IOC). The IOC added halfpipe skiing to the 2014 Olympic program this past April, with slopestyle getting the final nod in July.
Comments
comments