Freestyle Junior Worlds kick off this weekend
Tweet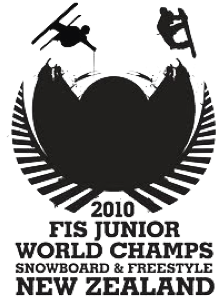 The 2010 Snowboard and Freestyle Junior World Championships are only days away with opening ceremonies Friday, August 20. The event, scheduled for August 21-31, will be held at New Zealand's Cardrona and Snow Park resorts. The event marks the first time that snowboarding and freestyle are performing on the same stage in a World Championship event. The Teams were named in the spring, giving nominated athletes plenty of time to prepare for their Junior Worlds debut.
"We are sending an incredibly talented group of athletes to Junior World Championships in New Zealand," said U.S. Snowboarding and Freeride Director Jeremy Forster."It's the first time Junior World Championships will be staged in New Zealand and the first time snowboarding&freestyle will share the same World Championship venues. I know Snow Sports New Zealand will host a world class event."
"Combining freestyle and snowboard for the first time in a FIS event is a great opportunity to showcase these two sports on one stage," said Snow Sports New Zealand CEO, Ross Palmer. "It makes sense from a logistics perspective, and with the popularity of the new disciplines, it also makes sense from a cultural perspective."
The 2010 Junior World Champs also marks the first time that New Zealand was selected to host a FIS World Championships, along with the first time snowboarding and freestyle will share the same venues in a World Championship. The Championships will also be the first time slopestyle will be included in a FIS Championship level event.
"We're looking forward to hosting some of the world's best at Snow Park and Cardrona Alpine Resort," said Palmer. "Both venues have created world-class facilities for this competition, so it should be a great show. We're thrilled that the U.S. is sending so many of its top, up-and-coming freestyle and snowboard athletes to compete in New Zealand in the FIS Junior Worlds."
The U.S. will be represented by 44 junior athletes in the 10-day event. Cardrona and Snow Park will host nine events between the two resorts, showcasing the top junior athletes from around the world in snowboarding and freestyle.
In the snowboard division riders will take the stage in halfpipe, snowboardcross, parallel giant slalom and slalom, slopestyle and big air. Headlining the U.S. will be slopestyle extraordinaires Ryan Stassel (Anchorage) and Caty O'Connor (Auburn, CA), snowboardcross up-and-comer and 2010 Olympian Faye Gulini (Salt Lake City, UT) and halfpipe standout Maddy Schaffrick (Steamboat Springs, CO) joined with the rest of the impressive Junior World snowboarding crew.
"Snow Park's park is sick and Cardrona's pipe is fun," said Mikaela Casey (Mound, MN). "New Zealand alltogether is exhilarating!"
On the freestyle side, the athletes will be competing in slopestyle, ski cross and halfpipe. Looking to make some noise down under are X Games gold medalist in slopestyle Bobby Brown (Englewood, CO), World Cup ski halfpipe regular Walter Wood (Snowmass Village, CO) and slopestyle Junior Olympian Jamie Crane-Mauzy (Waterville Valley, NH). Kyle Smaine (South Lake Tahoe, CA) is a double threat competing in both ski cross and halfpipe, as well as Devin Logan (West Dover, VT) and Blake Peterson (Park City, UT) competing in halfpipe and slopestyle.
"Bringing freestyle and snowboarding together at Junior Worlds will be a great opportunity to present the two sports at a world stage as well as show how similar they are," said Wood. "My goals are to enjoy the experience and to compete at my best level. I'm planning on sticking my run and having a great time doing so!"
The schedule is packed with competition kicking off on the 21st with the snowboard slopestlye and ending with the snowboard big air contest on the 31st. Cardona is set to host five events including snowboardcross, snowboard and freestyle halfpipe, ski cross and big air. Snow Park is scheduled to hold four events including snowboard and freestyle slopestyle and parallel giant slalom and slalom.
For the complete schedule, results and updates regarding the 2010 Junior Snowboard and Freestyle World Championships go to, www.juniorworldsnz.co.nz.
Check back for results and images from New Zealand.
2010 U.S. SNOWBOARD AND FREESTYLE JUNIOR WORLD CHAMPIONSHIPS TEAM
Snowboard Slopestyle
Dash Kamp, Sandpoint, ID
Ryan Stassel, Anchorage
Nick Sibayan, Wrightwood, CA
Mikaela Casey, Mound, MN
Caty O'Connor, Auburn, CA
Lauren Tamposi, Hollis, NH
Snowboard Halfpipe
Paul Brichta, Burnsville, MN
Benjamin Farrow, Mt. Holly, VT
Cody Weselis, Park City, UT
Jenna Dramise, Henderson, NV
Rainey Pogue, Jackson, WY
Maddy Schaffrick, Steamboat Springs, CO
Shelby Simpson, Bondville, VT
Snowboardcross
Roger Carver, Placerville, CA
Derek Dicastro, Rome, NY
Alex Tuttle, Stratton, ME
Chloe Banning, Steamboat Springs, CO
Jenna Feldman, Linwood, NJ
Faye Gulini, Salt Lake City
Jackie Hernandez, Londonderry, VT
Snowboard Alpine
Mack Joyce, Laconia, NH
Hunter Murphy, Deephaven, MN
Meghan Graham, Minnetonka, MN
Cassie Wagar, Steamboat Springs, CO
Ski Cross
Kyle Smaine, South Lake Tahoe, CA
Ethan Fortney, Tenino, WA
Penn Lukens, Steamboat Springs, CO
Morganne Murphy, Truckee, CA
Ski Halfpipe
Walter Wood, Snowmass Village, CO
Wing Tai Barrymore, Hailey, ID
Kyle Smaine, South Lake Tahoe, CA
Tyler Wellman, Boyne City, MI
Devin Logan, West Dover, VT
Brita Sigourney, Carmel, CA
Hannah Haupt, Sun Valley, ID
Blake Peterson, Park City, UT
Ski Slopestyle
Bobby Brown, Englewood, CO
Alex Dutcher, North Mankato, MN
Nick Keefer, Salt Lake City, UT
Cody Ling, Buffalo, MN
Devin Logan, West Dover, VT
Blake Peterson, Park City, UT
Jamie Crane-Mauzy, Waterville Valley, NH
Jessica Breda, Marshfield, MA
Coaches
Dylan Omlin, Snowboard slopestyle
Matt Gustafson, Snowboard halfpipe
Jon Casson, Snowboardcross
Neil Sunday, Snowboard PGS/PSL
Brett Buckles, Ski Cross
Elana Chase, Ski Halfpipe and slopestyle
Ben Verge, Ski Halfpipe and slopestyle
Jen Hudak, Ski Halfpipe and slopestyle
Comments
comments